Reliable Critical Infrastructure: Multiple Failures for Multicast using Multi-Objective Approach
Abstract
Multicast is the keystone for multimedia Internet. Multicast is one of the new and most used services in telecommunication networks. However, these networks meet big challenges when facing failures from diverse factors, including natural disasters and bad configurations. Networks operators need to establish mechanisms to maintain available multicast services, and plan actions to handle incidents. We study and implement an elitist evolutionary algorithm based on Strength Pareto Evolutionary Algorithm - SPEA. Our implementation recalculates network routes, even when there are multiple failures. The results indicate that our product finds lower-cost and higheravailability multicast tree to protect multicast services.
Keywords
resilience; protection; survivability networks; multi-objective evolutionary algorithm
References
James P.G. Sterbenz, David Hutchison, Egemen K. Çetinkaya, Abdul Jabbar, Justin P. Rohrer, Marcus Schller, Paul Smith, Resilience and survivability in communication networks: Strategies, principles, and survey of disciplines, Computer Networks, 54(8):1245-1265, 2010.
http://dx.doi.org/10.1016/j.comnet.2010.03.005
M. Zotkiewicz, and W. Ben-Ameur, and M. Pióro, Finding Failure-Disjoint Paths for Path Diversity Protection in Communication Networks, Communications Letters, IEEE 14:776- 778, 2010.
http://dx.doi.org/10.1109/LCOMM.2010.08.100653
Jia Weijia, Cao Jiannong, Jia Xiaohua, H. Lee Chan, Design and analysis of an efficient and reliable atomic multicast protocol, Computer Communications, 21:37-53, 1988.
Medard, M. and Finn, S.G. and Barry, R.A. and Gallager, R.G., Redundant trees for preplanned recovery in arbitrary vertex-redundant or edge-redundant graphs, Networking, IEEE/ACM Transactions on, 5(7):641-652, 1999.
A. V. Panyukov, The Steiner Problem in Graphs: Topological Methods of Solution, Automation and Remote Control, 65:439-448, 2004.
http://dx.doi.org/10.1023/B:AURC.0000019376.31168.20
H. Takahashi, and A. Matsuyama, An approximate solution for the Steiner problem in graphs, Math Japonica, 24:573-577, 1980.
K. Singhal Narendra, and Ou Canhui, and Mukherjee Biswanath, Cross-sharing s. self-sharing trees for protecting multicast sessions in mesh networks, Computer Networks, 50:200-206, 2006.
http://dx.doi.org/10.1016/j.comnet.2005.05.024
Yang Chyi-Bao, and Wen Ue-Pyng, Applying tabu search to backup path planning for multicast networks, Computers & Operations Research, 32:2875-2889, 2005.
http://dx.doi.org/10.1016/j.cor.2004.04.018
E. Zitzler, and L. Thiele, Multiobjective evolutionary algorithms: a comparative case study and the strength Pareto approach, Evolutionary Computation, IEEE Transactions on, 3:257- 271, 1999.
Deb Kalyanmoy, Multiobjective evolutionary algorithms: a comparative case study and the strength Pareto approach, Wiley, Chichestr, New York, 2001.
Yezid Donoso and Ramon Fabregat, Multi-Objective Optimization in Computer Networks Using Metaheuristics, Auerbach Publications, 2007.
Chern Maw-Sheng, On the computational complexity of reliability redundancy allocation in a series system, Operations Research Letters. 11:309-315, 1992.
http://dx.doi.org/10.1016/0167-6377(92)90008-Q
DOI:
https://doi.org/10.15837/ijccc.2013.1.171
Copyright (c) 2017 Ferney A. Maldonado-Lopez, Yezid Donoso

This work is licensed under a
Creative Commons Attribution-NonCommercial 4.0 International License
.
CC-BY-NC  License for Website User
Articles published in IJCCC user license are protected by copyright.
Users can access, download, copy, translate the IJCCC articles for non-commercial purposes provided that users, but cannot redistribute, display or adapt:
Cite the article using an appropriate bibliographic citation: author(s), article title, journal, volume, issue, page numbers, year of publication, DOI, and the link to the definitive published version on IJCCC website;
Maintain the integrity of the IJCCC article;
Retain the copyright notices and links to these terms and conditions so it is clear to other users what can and what cannot be done with the  article;
Ensure that, for any content in the IJCCC article that is identified as belonging to a third party, any re-use complies with the copyright policies of that third party;
Any translations must prominently display the statement: "This is an unofficial translation of an article that appeared in IJCCC. Agora University  has not endorsed this translation."
This is a non commercial license where the use of published articles for commercial purposes is forbiden. 
Commercial purposes include: 
Copying or downloading IJCCC articles, or linking to such postings, for further redistribution, sale or licensing, for a fee;
Copying, downloading or posting by a site or service that incorporates advertising with such content;
The inclusion or incorporation of article content in other works or services (other than normal quotations with an appropriate citation) that is then available for sale or licensing, for a fee;
Use of IJCCC articles or article content (other than normal quotations with appropriate citation) by for-profit organizations for promotional purposes, whether for a fee or otherwise;
Use for the purposes of monetary reward by means of sale, resale, license, loan, transfer or other form of commercial exploitation;


The licensor cannot revoke these freedoms as long as you follow the license terms.
[End of CC-BY-NC  License for Website User]
INTERNATIONAL JOURNAL OF COMPUTERS COMMUNICATIONS & CONTROL (IJCCC), With Emphasis on the Integration of Three Technologies (C & C & C),  ISSN 1841-9836.
IJCCC was founded in 2006,  at Agora University, by  Ioan DZITAC (Editor-in-Chief),  Florin Gheorghe FILIP (Editor-in-Chief), and  Misu-Jan MANOLESCU (Managing Editor).
Ethics: This journal is a member of, and subscribes to the principles of, the Committee on Publication Ethics (COPE).
Ioan  DZITAC (Editor-in-Chief) at COPE European Seminar, Bruxelles, 2015:
IJCCC is covered/indexed/abstracted in Science Citation Index Expanded (since vol.1(S),  2006); JCR2018: IF=1.585..
IJCCC is indexed in Scopus from 2008 (CiteScore2018 = 1.56):
Nomination by Elsevier for Journal Excellence Award Romania 2015 (SNIP2014 = 1.029): Elsevier/ Scopus
IJCCC was nominated by Elsevier for Journal Excellence Award - "Scopus Awards Romania 2015" (SNIP2014 = 1.029).
IJCCC is in Top 3 of 157 Romanian journals indexed by Scopus (in all fields) and No.1 in Computer Science field by Elsevier/ Scopus.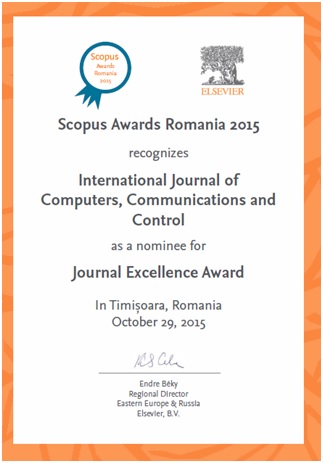 Impact Factor in JCR2018 (Clarivate Analytics/SCI Expanded/ISI Web of Science): IF=1.585 (Q3). Scopus: CiteScore2018=1.56 (Q2);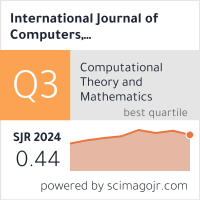 Editors-in-Chief: Ioan DZITAC & Florin Gheorghe FILIP.