Localization of Wireless Sensor Network Based on Genetic Algorithm
Abstract
This paper proposes a novel localization approach based on genetic algorithm for Wireless Sensor Networks. In this method, we use a new way to approximate the distance between unknown node and anchor node when anchor node is out of an unknown node's communicate radius. In addition, we use self-adapting genetic algorithm into localization to ensure it could produce the result as similar as its real position in any environment. Our simulate experiment on various network topologies shows surprisingly good results. These demonstrate that the approach could help unknown nodes obtain high accuracy position whether in open space or the environment with obstruction even the unconnected well environment. In comparison, we find that previous anchor node free localization approach cannot work well in the unidealization environment.
Keywords
Wireless Sensor Networks(WSNs), Genetic Algorithm(GA), Localization
References
Girod, L.; Bychkovskiy, V.; Elson, J.; Estrin, D. (2002); Locating tiny sensors in time and space: A case study, In Proceedings of IEEE International Conference on Computer Design: VLSI in Computers and Processors, pp. 214-219, January 2002, ISSN 1063-6404.
Girod, L.; Estrin, D.(2001); Robust range estimation using acoustic and multimodal sens-ing, In Proceedings of 2001 IEEE/RSJ International Conference on Intelligent Robots and Systems, pp. 1312-1320, October 2001, ISBN 0-7803-6612-3.
A. Savvides; C.C. Han; M.B. Srivastava(2001); Dynamic fine-grained localization in ad-hoc networks of sensors, In Proceedings of 7th Annual Internatonal Conference on Mobile Computing and Networking, pp. 166-199, July 2001, ISBN 1-58113-422-3 .
D. Niculescu; B. Nath.(2003); Ad hoc positioning system (APS) using AOA, In Proceedings of Twenty-Second Annual Joint Conference of the IEEE Computer and Communications, pp. 1734-1743, March 2003, ISSN 0743-166X.
N. Bulusu; J. Heidemann; D. Estrin(2000); GPS-less low-cost outdoor localization for very small devices, IEEE Personal Communications, 7, 28-34, ISSN 1070-9916.
D. Niculescu; B. Nath.(2001); Ad hoc positioning system (APS), In Proceedings of Global Telecommunications Conference, pp. 2926-2931, November 2001, ISBN 0-7803-7206-9.
R. Nagpal(1999); Organizing a global coordinate system from local information on an amor-phous computer, MIT Artificial Intelligence Laboratory memo no. 1666, August 1999, ISSN 1611-3349.
T. He; C. Huang; B.M. Blum; J.A. Stankovic; T. Abdelzaher(2003); Range-free localiza-tion schemes for large scale sensor networks, In Proceedings of 9th Annual Internatonal Conference on Mobile Computing and Networking, pp. 81-95, September 2003, ISBN 1-58113-753-2.
Y. Shang; W. Ruml; Y. Zhang; M.P.J. Fromherz(2003); Localization from mere connectivi-ty, In Proceedings of the 4th ACM international Symposium on Mobile Ad Hoc Networking
S. Lederer; Y. Wang; J. Gao(2008); Connectivity-based localization of large scale sensor networks with complex shape, In Proceedings of the 27th Annual IEEE Conference on Computer Communications, pp. 789-797, May 2008, ISSN 0743-166X.
Y. Wang; S. Lederer; J. Gao(2009); Connectivity-based sensor network localization with in-cremental delaunay refinement method, In Proceedings of the 28th Annual IEEE Conference on Computer Communications, pp. 2401-2409, April 2009, ISSN 0743-166X.
M. Jin; S. Xia; H. Wu; X. Gu(2011); Scalable and fully distributed localization with mere connectivity, In Proceedings of the 30th Annual IEEE Conference on Computer Communi-cations, pp. 3164-3172, April 2011, ISSN 0743-166X.
J.H. Holland(1962); Concerning efficient adaptive systems, Self-Organizing Systems, 215-230, ISSN 1069-0948.
J.H. Holland(1992); Adaptation in Natural and Artificial Systems, MA: MIT Press, ISBN 0-262-58111-6.
M. Srinivas; L.M. Patnaik(1994); Adaptive probabilities of crossover and mutation in ge-netic algorithms, IEEE Transactions on Systems, Man and Cybernetics, 24, 656-667, ISSN 0018-9472.
K. Deep; M. Thakur(2007); A new crossover operator for real coded genetic algorithms, Applied Mathematics and Computation, 188, 895-911, ISSN 0974-4665.
DOI:
https://doi.org/10.15837/ijccc.2013.6.17
Copyright (c) 2017 Nan Jiang, Sixin Jin, Yan Guo, Yueshun He

This work is licensed under a
Creative Commons Attribution-NonCommercial 4.0 International License
.
IJCCC is an Open Access Journal : CC-BY-NC.
Articles published in IJCCC user license are protected by copyright.
Users can access, download, copy, translate the IJCCC articles for non-commercial purposes provided that users, but cannot redistribute, display or adapt:
Cite the article using an appropriate bibliographic citation: author(s), article title, journal, volume, issue, page numbers, year of publication, DOI, and the link to the definitive published version on IJCCC website;
Maintain the integrity of the IJCCC article;
Retain the copyright notices and links to these terms and conditions so it is clear to other users what can and what cannot be done with the  article;
Ensure that, for any content in the IJCCC article that is identified as belonging to a third party, any re-use complies with the copyright policies of that third party;
Any translations must prominently display the statement: "This is an unofficial translation of an article that appeared in IJCCC. Agora University  has not endorsed this translation."
This is a non commercial license where the use of published articles for commercial purposes is forbiden. 
Commercial purposes include: 
Copying or downloading IJCCC articles, or linking to such postings, for further redistribution, sale or licensing, for a fee;
Copying, downloading or posting by a site or service that incorporates advertising with such content;
The inclusion or incorporation of article content in other works or services (other than normal quotations with an appropriate citation) that is then available for sale or licensing, for a fee;
Use of IJCCC articles or article content (other than normal quotations with appropriate citation) by for-profit organizations for promotional purposes, whether for a fee or otherwise;
Use for the purposes of monetary reward by means of sale, resale, license, loan, transfer or other form of commercial exploitation;


The licensor cannot revoke these freedoms as long as you follow the license terms.
[End of CC-BY-NC  License for Website User]
INTERNATIONAL JOURNAL OF COMPUTERS COMMUNICATIONS & CONTROL (IJCCC), With Emphasis on the Integration of Three Technologies (C & C & C),  ISSN 1841-9836.
IJCCC was founded in 2006,  at Agora University, by  Ioan DZITAC (Editor-in-Chief),  Florin Gheorghe FILIP (Editor-in-Chief), and  Misu-Jan MANOLESCU (Managing Editor).
Ethics: This journal is a member of, and subscribes to the principles of, the Committee on Publication Ethics (COPE).
Ioan  DZITAC (Editor-in-Chief) at COPE European Seminar, Bruxelles, 2015:
IJCCC is covered/indexed/abstracted in Science Citation Index Expanded (since vol.1(S),  2006); JCR2018: IF=1.585..
IJCCC is indexed in Scopus from 2008 (CiteScore2018 = 1.56):
Nomination by Elsevier for Journal Excellence Award Romania 2015 (SNIP2014 = 1.029): Elsevier/ Scopus
IJCCC was nominated by Elsevier for Journal Excellence Award - "Scopus Awards Romania 2015" (SNIP2014 = 1.029).
IJCCC is in Top 3 of 157 Romanian journals indexed by Scopus (in all fields) and No.1 in Computer Science field by Elsevier/ Scopus.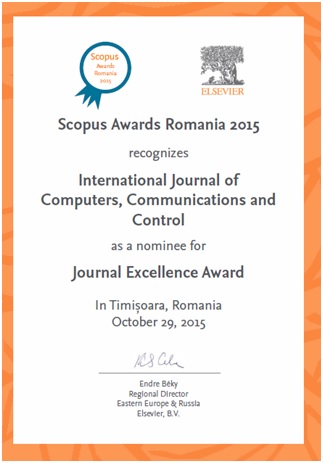 Impact Factor in JCR2018 (Clarivate Analytics/SCI Expanded/ISI Web of Science): IF=1.585 (Q3). Scopus: CiteScore2018=1.56 (Q2);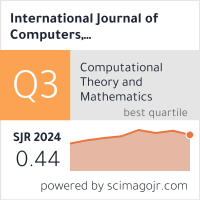 Editors-in-Chief: Ioan DZITAC & Florin Gheorghe FILIP.