The Model for Learning Objects Design Based on Semantic Technologies
Abstract
The paper presents a comparison of state of the art methods and techniques on implementation of learning objects (LO) in the field of information and communication technologies (ICT) using semantic web services for e-learning. The web can serve as a perfect technological environment for individualized learning which is often based on interactive learning objects. This allows learners to be uniquely identified, content to be specifically personalized, and, as a result, a learner's progress can be monitored, supported, and assessed. While a range of technological solutions for the development of integrated e-learning environments already exists, the most appropriate solutions require further improvement on implementation of novel learning objects, unification of standardization and integration of learning environments based on semantic web services (SWS) that are still in the early stages of development. This paper introduces a proprietary architectural model for distributed e-learning environments based on semantic web services (SWS), enabling the implementation of a successive learning process by developing innovative learning objects based on modern learning methods. A successful technical implementation of our approach in the environment of Kaunas University of Technology is further detailed and evaluated.
Keywords
learning object, semantic technologies, web applications, learning environments
References
Ermalai, I.; Dragulescu, B.; Ternauciuc, A.; Vasiu, R. (2013); Building a Module for Inserting Microformats into Moodle, Advances in Electrical and Computer Engineering, 13(3): 23-26.
https://doi.org/10.4316/AECE.2013.03004
Kruk, S.; Gzella, A.; Dobrzanski, J.; McDaniel, B.; Woroniecki, T. (2007); E-Learning on the Social Semantic Information Sources, Lecture Notes in Computer Science, 4753: 172-186.
https://doi.org/10.1007/978-3-540-75195-3_13
Ermalai, I.; Mocofan, M.; Onita, M.;Vasiu, R. (2009); Adding Semantics to Online Learning Environments, Proceedings of 5th International Symposium on Applied Computational Intelligence and Informatics – SACI2009, 569-573.
Targamadze,A.; Balbieris, G.; Kubiliunas, R. (2005); The new generation of virtual learning environments in Lithuania, Information Technology and Control, 34(3): 276-284.
Gurbuz, T.; Gudoniene, D.; Rutkauskiene, D. (2013); System architecture model based on service-oriented architecture technology, Proceedings of 19th international conference Information and Software Technologies, 102-113.
Kurilovas, E.; Dagiene, V. (2009); Multiple Criteria Comparative Evaluation of E-Learning Systems and Components, Informatica, 20(4): 499-518.
Grtze, P.; Engelund, C.; Mortensen, R.L.; Paszkowski, S. (2009); Cross-National Interoperability and Enterprise Architecture, Informatica, 20(3): 369-396.
Abdul Hamid, O.; Abdul Qadir, M.; Iftikhar, N.; Ur Rehman, M.; Uddin Ahmed, M.; Ihsan, I. (2007); Generic Multimedia Database Architecture Based upon Semantic Libraries, Informatica, 18(4): 483-510.
Dagiene, V.; Jevsikova, T.; Kubilinskiene, S. (2013); An Integration of Methodological Resources into Learning Object Metadata Repository, Informatica, 24(1): 13-34.
Aroyo, L.; Dicheva, D. (2013); The New Challenges for E-learning, The Educational Semantic Web Educational Technology & Society, 7 (4): 59-69.
Rutkauskiene, D.; Gudoniene, D.; Cibulskis, G.; Suk, O. (2013); ICT architecture for online learning approach, Proceedings of Information and software technologies - ICIST 2012, 373- 387.
Rutkauskiene, D.; Mark, R.; Kubiliunas, R.; Gudoniene, D. (2013); Functional architecture of a service-oriented integrated learning environment, Proceedings ECEL 2013 - 12th European Conference on e-learning, 431-439.
Kuzucuoglu, A. E.; Gokhan, E. (2011); Development of A Web-Based Control And Robotic Applications Laboratory For Control Engineering Education,Information Technology and Control, 40(4): 352-358.
Bajec, M. (2008); A Framework and Tool-Support for Reengineering Software Development Methods, Informatica, 19(3): 321-344.
Bersin, J. (2008); Social Networking and Corporate Learning, Certification Magazine, 10: 14-14.
Fertalj, K.; Hoic-Bozic, N.; Jerkovic, H. (2010); The Integration of Learning Object Repositories and Learning Management Systems, Computer Science and Information Systems, 7: 387-407.
https://doi.org/10.2298/CSIS081127001F
Grodecka, K.; Wild, F.; Kieslinger, B. (2011); How to Use Social Software in Higher Education, Poland.
Targamadze, A.; Petrauskiene, R. (2010); Impact of Information Technologies on Modern Learning, Information Technology and Control, 39(3): 169-175.
Vitiutinas, R.; Silingas, D.; Telksnys, L. (2011); Model-driven plug-in development for UML based modelling systems, Information technology and control, 40(3): 191-201.
Alsultanny, Y. (2010); e-Learning System Overview based on Semantic Web, The Electronic Journal of e-Learning, 4 (2): 111-118.
Rehman, Z.; Kifor, S. (2014); A Conceptual Architecture of Ontology Based KM System for Failure Mode and Effects Analysis, International Journal of Computers Communications & Control, 9 (4): 463-470.
https://doi.org/10.15837/ijccc.2014.4.1167
DOI:
https://doi.org/10.15837/ijccc.2017.2.1628
Copyright (c) 2017 Daina Gudoniene, Rytis Maskeliunas, Danguole Rutkauskiene

This work is licensed under a
Creative Commons Attribution-NonCommercial 4.0 International License
.
CC-BY-NC  License for Website User
Articles published in IJCCC user license are protected by copyright.
Users can access, download, copy, translate the IJCCC articles for non-commercial purposes provided that users, but cannot redistribute, display or adapt:
Cite the article using an appropriate bibliographic citation: author(s), article title, journal, volume, issue, page numbers, year of publication, DOI, and the link to the definitive published version on IJCCC website;
Maintain the integrity of the IJCCC article;
Retain the copyright notices and links to these terms and conditions so it is clear to other users what can and what cannot be done with the  article;
Ensure that, for any content in the IJCCC article that is identified as belonging to a third party, any re-use complies with the copyright policies of that third party;
Any translations must prominently display the statement: "This is an unofficial translation of an article that appeared in IJCCC. Agora University  has not endorsed this translation."
This is a non commercial license where the use of published articles for commercial purposes is forbiden. 
Commercial purposes include: 
Copying or downloading IJCCC articles, or linking to such postings, for further redistribution, sale or licensing, for a fee;
Copying, downloading or posting by a site or service that incorporates advertising with such content;
The inclusion or incorporation of article content in other works or services (other than normal quotations with an appropriate citation) that is then available for sale or licensing, for a fee;
Use of IJCCC articles or article content (other than normal quotations with appropriate citation) by for-profit organizations for promotional purposes, whether for a fee or otherwise;
Use for the purposes of monetary reward by means of sale, resale, license, loan, transfer or other form of commercial exploitation;


The licensor cannot revoke these freedoms as long as you follow the license terms.
[End of CC-BY-NC  License for Website User]
INTERNATIONAL JOURNAL OF COMPUTERS COMMUNICATIONS & CONTROL (IJCCC), With Emphasis on the Integration of Three Technologies (C & C & C),  ISSN 1841-9836.
IJCCC was founded in 2006,  at Agora University, by  Ioan DZITAC (Editor-in-Chief),  Florin Gheorghe FILIP (Editor-in-Chief), and  Misu-Jan MANOLESCU (Managing Editor).
Ethics: This journal is a member of, and subscribes to the principles of, the Committee on Publication Ethics (COPE).
Ioan  DZITAC (Editor-in-Chief) at COPE European Seminar, Bruxelles, 2015:
IJCCC is covered/indexed/abstracted in Science Citation Index Expanded (since vol.1(S),  2006); JCR2018: IF=1.585..
IJCCC is indexed in Scopus from 2008 (CiteScore2018 = 1.56):
Nomination by Elsevier for Journal Excellence Award Romania 2015 (SNIP2014 = 1.029): Elsevier/ Scopus
IJCCC was nominated by Elsevier for Journal Excellence Award - "Scopus Awards Romania 2015" (SNIP2014 = 1.029).
IJCCC is in Top 3 of 157 Romanian journals indexed by Scopus (in all fields) and No.1 in Computer Science field by Elsevier/ Scopus.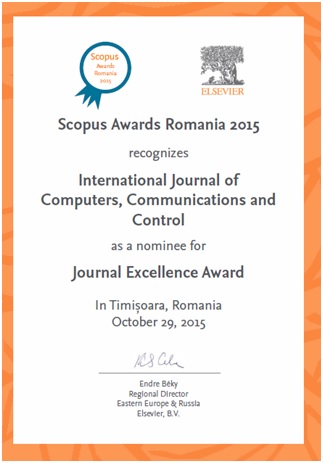 Impact Factor in JCR2018 (Clarivate Analytics/SCI Expanded/ISI Web of Science): IF=1.585 (Q3). Scopus: CiteScore2018=1.56 (Q2);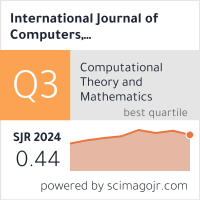 Editors-in-Chief: Ioan DZITAC & Florin Gheorghe FILIP.