Predictive Input Delay Compensation with Grey Predictor for Networked Control System
Abstract
The performance of networked control systems is affected strictly by time delay. Most of the literature in the area handle the problem from a stability perspective. However, stability optimized algorithms alone are not sufficient to reduce synchronization problems caused by time delay between the action and reaction in geographically distant places, and the effect and performance of other system components should also be taken into account. In teleoperation applications the reference is often provided by a human, known as the operator, and due to the nature of the human system, references provided by the human operator are of a much lower bandwidth when compared to common control reference inputs. This paper focuses on the operator, and proposes an approach to predict the manipulator's motion (created by the operator) ahead of time with an aim to reduce the time delay between the master and slave manipulator trajectories. To highlight the improvement offered by the developed approach, hereby called Predictive Input Delay Compensator (PIDC), we compare the performance with the only other study in the literature that handles this problem using the Taylor Series approach. The performance of these two approaches is evaluated experimentally for the forward (control) path on a PUMA robot, manipulated by a human operator and it has been demonstrated that the efficient latency in the forward path is decreased by 100ms, on average, reducing the forward latency from 350ms to 250ms.
Keywords
communication network delay, delay regulator, Grey predictor, Taylor series, teleoperation
References
Kuzu, A. et al (2011); Control and measurement delay compensation in bilateral position control, Mechatronics (ICM), 2011 IEEE International Conference on, April 2011, 1003– 1010.
Mori, T (2012); Modified bilateral control by using intervention impedance based on passivity of flexible master-slave manipulators and its design methods, Control, Automation and Systems (ICCAS), 2012 12th International Conference on, 748–753.
Hashemzadeh, F (2012); A new method for bilateral teleoperation passivity under varying time delays, Mathematical Problems in Engineering, Hindawi Publishing Corporation, http://dx.doi.org/10.1155/2012/792057.
http://dx.doi.org/10.1155/2012/792057
Lai, C.L. and Hsu, P.-L. (2010); Design the remote control system with the time-delay estimator and the adaptive smith predictor, Industrial Informatics, IEEE Transactions on, 6(1): 73–80.
Astrom, K. (1994); A new smith predictor for controlling a process with an integrator and long dead-time, Automatic Control, IEEE Transactions on, 39(2): 343–345.
Gadamsetty, B. et al (2010); Sliding mode and ekf observers for communication delay compensation in bilateral control systems, Industrial Electronics (ISIE), 2010 IEEE International Symposium on, 328–333.
Natori, K. et al (2010); Time-delay compensation by communication disturbance observer for bilateral teleoperation under time-varying delay, Industrial Electronics, IEEE Transactions on, 57(3): 1050–1062.
Yashiro, D. and Ohnishi, K. (2008); L2 stable four-channel control architecture for bilateral teleoperation with time delay, 10th IEEE International Workshop on Advanced Motion Control, 324–329.
Baran, E. and Sabanovic, A. (2012); Predictive input delay compensation for motion control systems, Advanced Motion Control (AMC), 2012 12th IEEE International Workshop on, March 2012, 1–6.
Ju-Long, D. (1982); Control problems of grey systems, Systems & Control Letters, 1(5): 288–294.
http://dx.doi.org/10.1016/S0167-6911(82)80025-X
Liu, S. and Lin, Y. (2006); Grey information: theory and practical applications, Springer.
DOI:
https://doi.org/10.15837/ijccc.2016.1.1577
Copyright (c) 2017 Ahmet Kuzu, Seta Bogosyan, Metin Gokasan

This work is licensed under a
Creative Commons Attribution-NonCommercial 4.0 International License
.
CC-BY-NC  License for Website User
Articles published in IJCCC user license are protected by copyright.
Users can access, download, copy, translate the IJCCC articles for non-commercial purposes provided that users, but cannot redistribute, display or adapt:
Cite the article using an appropriate bibliographic citation: author(s), article title, journal, volume, issue, page numbers, year of publication, DOI, and the link to the definitive published version on IJCCC website;
Maintain the integrity of the IJCCC article;
Retain the copyright notices and links to these terms and conditions so it is clear to other users what can and what cannot be done with the  article;
Ensure that, for any content in the IJCCC article that is identified as belonging to a third party, any re-use complies with the copyright policies of that third party;
Any translations must prominently display the statement: "This is an unofficial translation of an article that appeared in IJCCC. Agora University  has not endorsed this translation."
This is a non commercial license where the use of published articles for commercial purposes is forbiden. 
Commercial purposes include: 
Copying or downloading IJCCC articles, or linking to such postings, for further redistribution, sale or licensing, for a fee;
Copying, downloading or posting by a site or service that incorporates advertising with such content;
The inclusion or incorporation of article content in other works or services (other than normal quotations with an appropriate citation) that is then available for sale or licensing, for a fee;
Use of IJCCC articles or article content (other than normal quotations with appropriate citation) by for-profit organizations for promotional purposes, whether for a fee or otherwise;
Use for the purposes of monetary reward by means of sale, resale, license, loan, transfer or other form of commercial exploitation;


The licensor cannot revoke these freedoms as long as you follow the license terms.
[End of CC-BY-NC  License for Website User]
INTERNATIONAL JOURNAL OF COMPUTERS COMMUNICATIONS & CONTROL (IJCCC), With Emphasis on the Integration of Three Technologies (C & C & C),  ISSN 1841-9836.
IJCCC was founded in 2006,  at Agora University, by  Ioan DZITAC (Editor-in-Chief),  Florin Gheorghe FILIP (Editor-in-Chief), and  Misu-Jan MANOLESCU (Managing Editor).
Ethics: This journal is a member of, and subscribes to the principles of, the Committee on Publication Ethics (COPE).
Ioan  DZITAC (Editor-in-Chief) at COPE European Seminar, Bruxelles, 2015:
IJCCC is covered/indexed/abstracted in Science Citation Index Expanded (since vol.1(S),  2006); JCR2018: IF=1.585..
IJCCC is indexed in Scopus from 2008 (CiteScore2018 = 1.56):
Nomination by Elsevier for Journal Excellence Award Romania 2015 (SNIP2014 = 1.029): Elsevier/ Scopus
IJCCC was nominated by Elsevier for Journal Excellence Award - "Scopus Awards Romania 2015" (SNIP2014 = 1.029).
IJCCC is in Top 3 of 157 Romanian journals indexed by Scopus (in all fields) and No.1 in Computer Science field by Elsevier/ Scopus.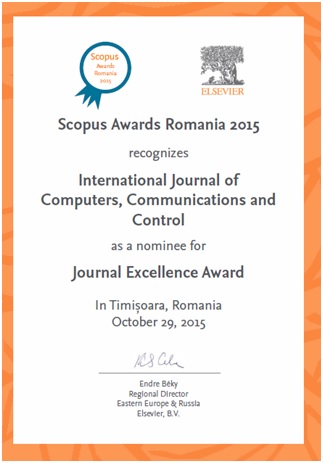 Impact Factor in JCR2018 (Clarivate Analytics/SCI Expanded/ISI Web of Science): IF=1.585 (Q3). Scopus: CiteScore2018=1.56 (Q2);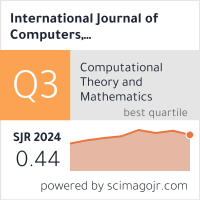 Editors-in-Chief: Ioan DZITAC & Florin Gheorghe FILIP.