A Comprehensive Approach to Off-line Advanced Error Troubleshooting in Intelligent Manufacturing Systems
Abstract
The errors recovery in the production systems will be always an open issue. Therefore, the FMSs have to be endowed with tools and techniques allowing an automatic recovery of errors. The objective of this work consists in proposing an off-line version of the software framework for error troubleshooting in a flexible manufacturing system [1]. The main difference between the on-line and off-line version is that the error database is stored on the mobile device and the frame marker device is connected directly to the FMS components without the need of the PC.). Our framework system is designed to solve the failures in the functioning of the FMS and to generate self-training from previous experience.
References
Csokmai,L.; Moldovan, O.; Tarca, I.; Tarca, R. (2013); Software Framework for Advanced rror Troubleshooting In Flexible Manufacturing System, Applied Mechanics and Materials, 97-400: 21-24.
Borchelt, R. D., Thorson, J. (1997), Toward reusable hierarchical cell control software, International ournal of Production Research, 35(2):577-594.
Kao, J.F., (1995), Optimal recovery strategies for manufacturing systems, European Journal f Operational Research, 80(2):252-263.
http://dx.doi.org/10.1016/0377-2217(94)00169-D
Wu, H.J., (1999), Methodology of generating recovery procedures in a robotic cell, Proceedings EEE International Conference on Robotics and Automation, 1:799-804.
Toguyeni, A.K.A.; Craye, E.; Gentina, J.C. (1996); A framework to design a distributed iagnosis in FMS, IEEE International Conference on Systems Man and Cybernetics, 4:2774- 779.
Bruccoleri, M.; Pasekb, Z.J.; Koren, Y. (2006); Operation management in reconfigurable anufacturing systems: Reconfiguration for error handling, Int. J. Production Economics, 00:87-100.
http://dx.doi.org/10.1016/j.ijpe.2004.10.009
Felea I, Dzitac S., Vesselenyi T., Dzitac I. (2014), Decision Support Model for Production Disturbance stimation, International Journal of Information Technology and Decision Making, 3(3): 623-647.
http://dx.doi.org/10.1142/S0219622014500576
Qiang Ruan, Wensheng Xu, Gaoxiang Wang (2011); RFID and ZigBee Based Manufacturing onitoring System, 2011 International Conference on Electric Information and Control ngineering (ICEICE), 1672-1675.
Leito P. (2010); A holonic disturbance management architecture for flexible manufacturing ystems, International Journal of Production Research, 49(5): 1269-1284.
http://dx.doi.org/10.1080/00207543.2010.518735
Leito, P., Restivo, F. (2006); ADACOR: A holonic architecture for agile and adaptive manufacturing ontrol, Computers in Industry, 57 (2): 121-130.
http://dx.doi.org/10.1016/j.compind.2005.05.005
Bruccoleri, M., Renna, P., Perrone, G. (2005), Reconfiguration: a key to handle exceptions nd performance deteriorations in manufacturing operations, International Journal of roduction Research, 43(19):4125-4145.
Bruccoleri, M. (2007), Reconfigurable control of robotized manufacturing cells, Robotics and omputer-Integrated Manufacturing, 23:94-106.
Zhang X.L., Yan K., Ye J.; Li J. (2012), A Remote Manufacturing Monitoring System Based n the Internet of Things, Proceedings of 2012 2nd International Conference on Computer cience and Network Technology (ICCSNT 2012), 221-224.
Dev Anand M., Selvaraj, T. Kumanan, S. (2012), Detection and Fault Tolerance Methods or Industrial Robot Manipulators Based on Hybrid Intelligent Approach, Advances in roduction Engineering and Management, 7(4):225-236.
Kumanan, S., Selvaraj, T.. Dev Anand, M., Janarthanan, J. (2008), Fault diagnosis system or a robot manipulator through neuro-fuzzy approach, International Journal of Modelling, dentification and Control, 3(2):181-192.
DOI:
https://doi.org/10.15837/ijccc.2015.1.1561
Copyright (c) 2017 Lehel Szabolcs Csokmai, Radu Cătălin Ţarcă, Constantin Bungău, Géza Husi

This work is licensed under a
Creative Commons Attribution-NonCommercial 4.0 International License
.
IJCCC is an Open Access Journal : CC-BY-NC.
Articles published in IJCCC user license are protected by copyright.
Users can access, download, copy, translate the IJCCC articles for non-commercial purposes provided that users, but cannot redistribute, display or adapt:
Cite the article using an appropriate bibliographic citation: author(s), article title, journal, volume, issue, page numbers, year of publication, DOI, and the link to the definitive published version on IJCCC website;
Maintain the integrity of the IJCCC article;
Retain the copyright notices and links to these terms and conditions so it is clear to other users what can and what cannot be done with the  article;
Ensure that, for any content in the IJCCC article that is identified as belonging to a third party, any re-use complies with the copyright policies of that third party;
Any translations must prominently display the statement: "This is an unofficial translation of an article that appeared in IJCCC. Agora University  has not endorsed this translation."
This is a non commercial license where the use of published articles for commercial purposes is forbiden. 
Commercial purposes include: 
Copying or downloading IJCCC articles, or linking to such postings, for further redistribution, sale or licensing, for a fee;
Copying, downloading or posting by a site or service that incorporates advertising with such content;
The inclusion or incorporation of article content in other works or services (other than normal quotations with an appropriate citation) that is then available for sale or licensing, for a fee;
Use of IJCCC articles or article content (other than normal quotations with appropriate citation) by for-profit organizations for promotional purposes, whether for a fee or otherwise;
Use for the purposes of monetary reward by means of sale, resale, license, loan, transfer or other form of commercial exploitation;


The licensor cannot revoke these freedoms as long as you follow the license terms.
[End of CC-BY-NC  License for Website User]
INTERNATIONAL JOURNAL OF COMPUTERS COMMUNICATIONS & CONTROL (IJCCC), With Emphasis on the Integration of Three Technologies (C & C & C),  ISSN 1841-9836.
IJCCC was founded in 2006,  at Agora University, by  Ioan DZITAC (Editor-in-Chief),  Florin Gheorghe FILIP (Editor-in-Chief), and  Misu-Jan MANOLESCU (Managing Editor).
Ethics: This journal is a member of, and subscribes to the principles of, the Committee on Publication Ethics (COPE).
Ioan  DZITAC (Editor-in-Chief) at COPE European Seminar, Bruxelles, 2015:
IJCCC is covered/indexed/abstracted in Science Citation Index Expanded (since vol.1(S),  2006); JCR2018: IF=1.585..
IJCCC is indexed in Scopus from 2008 (CiteScore2018 = 1.56):
Nomination by Elsevier for Journal Excellence Award Romania 2015 (SNIP2014 = 1.029): Elsevier/ Scopus
IJCCC was nominated by Elsevier for Journal Excellence Award - "Scopus Awards Romania 2015" (SNIP2014 = 1.029).
IJCCC is in Top 3 of 157 Romanian journals indexed by Scopus (in all fields) and No.1 in Computer Science field by Elsevier/ Scopus.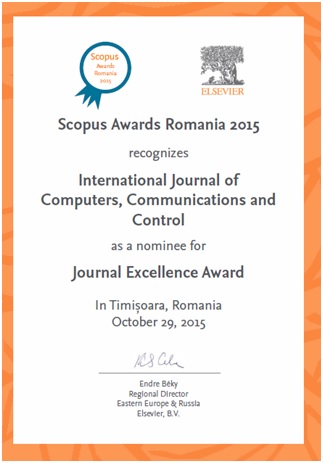 Impact Factor in JCR2018 (Clarivate Analytics/SCI Expanded/ISI Web of Science): IF=1.585 (Q3). Scopus: CiteScore2018=1.56 (Q2);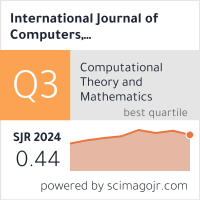 Editors-in-Chief: Ioan DZITAC & Florin Gheorghe FILIP.