Efficient Design and Deployment of Aqua Monitoring Systems Using WSNs and Correlation Analysis
Abstract
The roots of innovation are extending towards every field to provide ace solution. We cater an ace solution for aquaculture, where their yields (shrimp, fish, etc.) depends on the ponds water characteristics. The parameters depending on water must kept at certain optimal levels for better cultivation of Aqua. The parameters of water extremely project alterations during the day and also alter depending upon the environmental conditions i.e., it is necessary to monitor these parameters with high frequency. We adopt wireless sensor networks to monitor aqua forms. This system consists of two modules, they are transmitter and receiver station. We navigate data to database at receiver station through the GSM. The graphical user interface was designed in such a manner that the observations are forwarded to the farmer as message in their respective local languages to their mobile phones. That alerts them in unhygienic environmental conditions for adopting suitable measures.
Keywords
Aquaculture, wireless sensor networks, IAR-Kick, pH;
References
http://www.nmfs.noaa.gov/
A. Harun, D. L. Ndzi, M. F. Ramli, A. Y. M. Shakaff, M. N. Ahmad, L. M. Kamarudin, A. Zakaria, and Y. Yang (2012); Signal propagation in aquaculture environment for wireless sensor network applications, Progress In Electromagnetics Research, ISSN:1070-4698, E-ISSN:1559-8985, 131(1): 477-494.
Zhuiykov S., Ertud K., Mirza I. (Eds.)(2010); Water Quality: Physical, Chemical and Biological Characteristics, Sensors and Actuators B: Chemical,ISSN: 0925-4005, Chapter 3 : 71-96.
Wang, Xin; Ma, Longquan; Yang, Huizhong (2011); Online water monitoring system based on ZigBee and GPRS, Proc. Eng., 15: 2680-2684.
Tai, Haijiang; Liu, Shuangyin; Li, Daoliang; Ding, Qisheng; Ma, Daokun (2012); A multienvironmental factor monitoring system for aquiculture based on wireless sensor networks, Sensor Lett., ISSN:1546-198X , 10 (12):265-270.
D M. Razzemi, Z. Abdul Halim, M. Kusairay Musa and K. Hasbullah (2011); Development of Water Quality Monitoring System Prototype for Fresh Water Fish Culture, Informatics Engineering and Information SciencE Communications in Computer and Information Science, ISSN:978-3-642-25483-3 , 254(6): 470-478.
Qi, J. Zhang, M. Xu, Z. Fu, W. Chen, X. Zhang (2010); Developing WSN-based traceability system for recirculation aquaculture, Mathematical and Computer Modelling PII: S0895- 7177(10)00423-1, 53: 2162-2172.
Bosma R. H., Verdegem M. C.J. (2011); Sustainable aquaculture in ponds: principles, practices and limits, Livestock Sci., 139(1):58-68.
Sustainable aquaculture in ponds: principles, practices and limits, Livestock Sci., 139(1):58-68.
Jose Juan Carbajal Hernandez, Luis P. Sanchez Fernandez, Oleksiy Pogrebnyak (2011);
Jose Juan Carbajal Hernandez, Luis P. Sanchez Fernandez, Oleksiy Pogrebnyak (2011); Assessment and prediction of the water quality in shrimp culture using signal processing techniques, Aquaculture International, ISSN:1573-143X, 19 (6): 1083-1104.
Anita Bhatnagar, Pooja Devi(2013); Water quality guidelines for the management of pond fish culture, International Journal of Environmental Sciences, ISSN:0976-4402, 3(6):1981- 2009.
Glasgow H.B et al.(2004); Real-time remote monitoring of water quality: are view of current applications, and advancements in sensor, telemetry and computing technologies, Journal of Experimental Marine Biology and Ecology, ISSN: 0022-0981, DOI: 10.1016/j.jembe.2004.02.022, 300:409-448.
http://dx.doi.org/10.1016/j.jembe.2004.02.022
DOI:
https://doi.org/10.15837/ijccc.2015.4.1514
Copyright (c) 2017 S. Babu Chandanapalli, E. Sreenivasa Reddy, D. Rajya Lakshmi Davuluri

This work is licensed under a
Creative Commons Attribution-NonCommercial 4.0 International License
.
IJCCC is an Open Access Journal : CC-BY-NC.
Articles published in IJCCC user license are protected by copyright.
Users can access, download, copy, translate the IJCCC articles for non-commercial purposes provided that users, but cannot redistribute, display or adapt:
Cite the article using an appropriate bibliographic citation: author(s), article title, journal, volume, issue, page numbers, year of publication, DOI, and the link to the definitive published version on IJCCC website;
Maintain the integrity of the IJCCC article;
Retain the copyright notices and links to these terms and conditions so it is clear to other users what can and what cannot be done with the  article;
Ensure that, for any content in the IJCCC article that is identified as belonging to a third party, any re-use complies with the copyright policies of that third party;
Any translations must prominently display the statement: "This is an unofficial translation of an article that appeared in IJCCC. Agora University  has not endorsed this translation."
This is a non commercial license where the use of published articles for commercial purposes is forbiden. 
Commercial purposes include: 
Copying or downloading IJCCC articles, or linking to such postings, for further redistribution, sale or licensing, for a fee;
Copying, downloading or posting by a site or service that incorporates advertising with such content;
The inclusion or incorporation of article content in other works or services (other than normal quotations with an appropriate citation) that is then available for sale or licensing, for a fee;
Use of IJCCC articles or article content (other than normal quotations with appropriate citation) by for-profit organizations for promotional purposes, whether for a fee or otherwise;
Use for the purposes of monetary reward by means of sale, resale, license, loan, transfer or other form of commercial exploitation;


The licensor cannot revoke these freedoms as long as you follow the license terms.
[End of CC-BY-NC  License for Website User]
INTERNATIONAL JOURNAL OF COMPUTERS COMMUNICATIONS & CONTROL (IJCCC), With Emphasis on the Integration of Three Technologies (C & C & C),  ISSN 1841-9836.
IJCCC was founded in 2006,  at Agora University, by  Ioan DZITAC (Editor-in-Chief),  Florin Gheorghe FILIP (Editor-in-Chief), and  Misu-Jan MANOLESCU (Managing Editor).
Ethics: This journal is a member of, and subscribes to the principles of, the Committee on Publication Ethics (COPE).
Ioan  DZITAC (Editor-in-Chief) at COPE European Seminar, Bruxelles, 2015:
IJCCC is covered/indexed/abstracted in Science Citation Index Expanded (since vol.1(S),  2006); JCR2018: IF=1.585..
IJCCC is indexed in Scopus from 2008 (CiteScore2018 = 1.56):
Nomination by Elsevier for Journal Excellence Award Romania 2015 (SNIP2014 = 1.029): Elsevier/ Scopus
IJCCC was nominated by Elsevier for Journal Excellence Award - "Scopus Awards Romania 2015" (SNIP2014 = 1.029).
IJCCC is in Top 3 of 157 Romanian journals indexed by Scopus (in all fields) and No.1 in Computer Science field by Elsevier/ Scopus.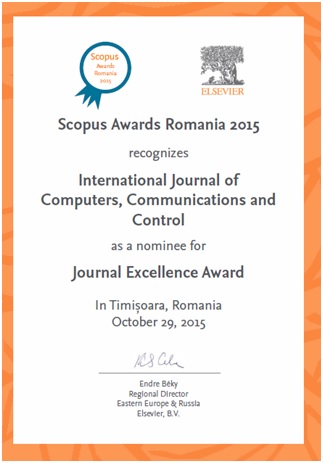 Impact Factor in JCR2018 (Clarivate Analytics/SCI Expanded/ISI Web of Science): IF=1.585 (Q3). Scopus: CiteScore2018=1.56 (Q2);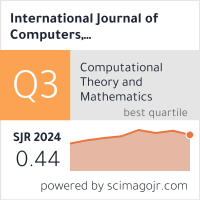 Editors-in-Chief: Ioan DZITAC & Florin Gheorghe FILIP.