An Online Load Balancing Algorithm for a Hierarchical Ring Topology
Abstract
Ring networks are an important topic to study because they have certain advantages over their direct network counterparts: easier to manage, better bandwidth, cheaper and wider communication paths. This paper proposes a new online load balancing algorithm for distributed real-time systems having a hierarchical ring as topology. The novelty of the algorithm lies in the goal it tries to achieve and the method used for load balancing. The main goal of the algorithm is to correctly utilize the computing resources in order to satisfy the average response time of clients. The secondary goal is to ensure fairness between the numbers of requests solved per client with respect to the average response time. A request from a client is moving through the network until a node considers that it can solve the request in the promised average time for that client or until it seems like the best opportunity to avoid any additional delays in solving it. A performance analysis and motivation for the proposed
algorithm is given with respect to the goals it tries to achieve. The results show that the proposed algorithm satisfies its goals.
Keywords
ring; hierarchical; distributed; balancing; algorithm; fairness
References
Oguz AKAY, Kayhan ERCIYES, A Dynamic Load Balancing model for a distributed system, Mathematical & Computational Applications, 8(3):353-350, 2003.
Ciprian Paduraru, A New Online Load Balancing Algorithm in Distributed Systems, Symbolic and Numeric Algorithms for Scientific Computing, SYNASC 14th edition, Pages:327-334, 2012.
Andrew S. Tanenbaum, Modern Operating Systems (3rd Edition), Prentice Hall, December 2007.
Kwang Soo Cho, Un Gi Joo, Heyung Sub Lee, Bong Tae Kim, and Won Don Lee, Efficient Load Balancing Algorithms for a Resilient Packet Ring Using Artificial Bee Colony, Applications of Evolutionary Computation, LNCS, 6025:61-70, 2010.
http://dx.doi.org/10.1007/978-3-642-12242-2_7
G. Ravindran and M. Stumm, Hierarchical Ring Topologies and the Effect of their Bisection Bandwidth Constraints, Proc. Intl. Conf.Parallel Processing, I:51-55, 1995.
Perry Fizzano and Clifford Stein, Scheduling on a Ring with Unit Capacity Links, Proceedings of the sixth annual ACM symposium on Parallel algorithms and architectures, Pages:210-219, 1994.
http://dx.doi.org/10.1145/181014.181333
Johannes E. Gehrke, C. Greg Plaxton and Rajmohan Rajaraman, Rapid Convergence of a Local Load Balancing Algorithm for Asyncronous Rings, Distributed Algorithms, LNCS, 1320:81-95, 1997.
http://dx.doi.org/10.1007/BFb0030677
Young-Soo Myung, Hu-Gon Kim, Dong-Wan Tcha, Optimal Load Balancing on Sonet Bidirectional Rings, Operations Research, 45(1):148-152, 1997.
http://dx.doi.org/10.1287/opre.45.1.148
Dekel Tsur, Improved scheduling in rings, Journal of Parallel and Distributed Computing, 67(5):531-535, 2007.
http://dx.doi.org/10.1016/j.jpdc.2007.02.002
Amir Gourgy, Ted H. Szymanski, Cooperative Token-Ring Scheduling For Input-Queued Switches, Journal of Parallel and Distributed Computing, 58(3):351-364, 2009.
Leonidas Georgiadis, Wojciech Szpankowski, Leandros Tassiulas, A scheduling policy with maximal stability region for ring networks with spatial reuse, Queueing Systems (Springer), 19(1-2):131-148, 1995.
http://dx.doi.org/10.1007/BF01148943
Joseph (Seffi) Naor, Adi Rosen, Gabriel Scalosub, Online time-constrained scheduling in linear and ring networks, Journal of Discrete Algorithms, 8(4):346-355, 2010.
http://dx.doi.org/10.1016/j.jda.2010.07.001
DOI:
https://doi.org/10.15837/ijccc.2014.6.1479
Copyright (c) 2017 Ciprian I. Paduraru

This work is licensed under a
Creative Commons Attribution-NonCommercial 4.0 International License
.
IJCCC is an Open Access Journal : CC-BY-NC.
Articles published in IJCCC user license are protected by copyright.
Users can access, download, copy, translate the IJCCC articles for non-commercial purposes provided that users, but cannot redistribute, display or adapt:
Cite the article using an appropriate bibliographic citation: author(s), article title, journal, volume, issue, page numbers, year of publication, DOI, and the link to the definitive published version on IJCCC website;
Maintain the integrity of the IJCCC article;
Retain the copyright notices and links to these terms and conditions so it is clear to other users what can and what cannot be done with the  article;
Ensure that, for any content in the IJCCC article that is identified as belonging to a third party, any re-use complies with the copyright policies of that third party;
Any translations must prominently display the statement: "This is an unofficial translation of an article that appeared in IJCCC. Agora University  has not endorsed this translation."
This is a non commercial license where the use of published articles for commercial purposes is forbiden. 
Commercial purposes include: 
Copying or downloading IJCCC articles, or linking to such postings, for further redistribution, sale or licensing, for a fee;
Copying, downloading or posting by a site or service that incorporates advertising with such content;
The inclusion or incorporation of article content in other works or services (other than normal quotations with an appropriate citation) that is then available for sale or licensing, for a fee;
Use of IJCCC articles or article content (other than normal quotations with appropriate citation) by for-profit organizations for promotional purposes, whether for a fee or otherwise;
Use for the purposes of monetary reward by means of sale, resale, license, loan, transfer or other form of commercial exploitation;


The licensor cannot revoke these freedoms as long as you follow the license terms.
[End of CC-BY-NC  License for Website User]
INTERNATIONAL JOURNAL OF COMPUTERS COMMUNICATIONS & CONTROL (IJCCC), With Emphasis on the Integration of Three Technologies (C & C & C),  ISSN 1841-9836.
IJCCC was founded in 2006,  at Agora University, by  Ioan DZITAC (Editor-in-Chief),  Florin Gheorghe FILIP (Editor-in-Chief), and  Misu-Jan MANOLESCU (Managing Editor).
Ethics: This journal is a member of, and subscribes to the principles of, the Committee on Publication Ethics (COPE).
Ioan  DZITAC (Editor-in-Chief) at COPE European Seminar, Bruxelles, 2015:
IJCCC is covered/indexed/abstracted in Science Citation Index Expanded (since vol.1(S),  2006); JCR2018: IF=1.585..
IJCCC is indexed in Scopus from 2008 (CiteScore2018 = 1.56):
Nomination by Elsevier for Journal Excellence Award Romania 2015 (SNIP2014 = 1.029): Elsevier/ Scopus
IJCCC was nominated by Elsevier for Journal Excellence Award - "Scopus Awards Romania 2015" (SNIP2014 = 1.029).
IJCCC is in Top 3 of 157 Romanian journals indexed by Scopus (in all fields) and No.1 in Computer Science field by Elsevier/ Scopus.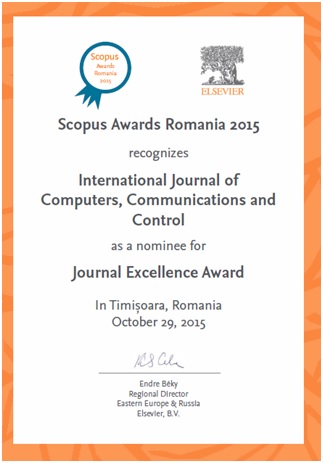 Impact Factor in JCR2018 (Clarivate Analytics/SCI Expanded/ISI Web of Science): IF=1.585 (Q3). Scopus: CiteScore2018=1.56 (Q2);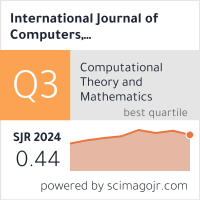 Editors-in-Chief: Ioan DZITAC & Florin Gheorghe FILIP.