A New Approach to Nonlinear Tracking Control Based on Fuzzy Approximation
Abstract
The problem of tracking control is addressed for a class of nonlinear systems with uncertainties. The original nonlinear systems are approximated by a fuzzy T-S model based on which a state-feedback controller is constructed by using the linear matrix inequalities. The approximating error is eliminated by an adaptive compensator based on fuzzy logic systems. The effectiveness of the proposed control scheme is demonstrated by a simulation example. The main advantage is that the designer makes milder constraint assumption for the approximation error and the uncertainties in nonlinear systems.
Keywords
fuzzy T-S model; fuzzy logic systems; nonlinear systems; uncertainties; tracking control
References
K.Tanaka, M.Sugeno. Stability analysis and design of fuzzy control systems. Fuzzy Sets and ystems,1992,45(2):135-156.
http://dx.doi.org/10.1016/0165-0114(92)90113-I
Bong-Jae Rhee, SangchulWon.A new fuzzy Lyapunov function approach for a Takagi -Sugeno uzzy control system design. Fuzzy Sets and Systems, 2006, 157(9): 1211 - 1228.
http://dx.doi.org/10.1016/j.fss.2005.12.020
H. K. Lam, Lakmal D. Seneviratne. Stability Analysis of Interval Type-2 Fuzzy-Model- Based ontrol Systems. IEEE Transactions on Systems, Man, and Cybernetics-Part B: Cybernetics, 008,38(3): 617-628.
Sung Hyun Kim, Poo Gyeon Park.Observer-Based Relaxed H∞ Control for Fuzzy Systems sing a Multiple Lyapunov Function. IEEE Transactions on Fuzzy Systems, 2009,17(2):476- 84.
Antonio Sala, Carlos Ari˜no.Relaxed Stability and Performance LMI Conditions for Takagi- ugeno Fuzzy Systems With Polynomial Constraints on Membership Function Shapes. IEEE ransactions on Fuzzy Systems,2008,16(5):1328-1336.
http://dx.doi.org/10.1109/TFUZZ.2008.926585
Miguel Bernal, Thierry Marie Guerra,Alexandre Kruszewski.A membership-function- dependent pproach for stability analysis and controller synthesis of Takagi-Sugeno models. Fuzzy ets and Systems,2009,160(19):2776-2795.
http://dx.doi.org/10.1016/j.fss.2009.02.005
Yan-Wu Wang,Zhi-Hong Guan,Hua O.Wang.Impulsive synchronization for Takagi-Sugeno uzzy model and its application to continuous chaotic system.Physics Letters A, 2005,339(3-) :325-332.
Shinn-Horng Chen, Wen-Hsien Ho, Jyh-Horng Chou.Robust Controllability of T-S Fuzzy- odel-Based Control Systems With Parametric Uncertainties. IEEE Transactions on Fuzzy ystems,2009,17(6):1324-1335.
http://dx.doi.org/10.1109/TFUZZ.2009.2030670
J.C.Lo, M.L.Lin. Robust nonlinear modeling and control via uncertain fuzzy systems. Fuzzy ets and Systems,2004,143(2):189-209.
http://dx.doi.org/10.1016/S0165-0114(03)00023-X
JunYoneyama.Robust H∞ control analysis and synthesis for Takagi-Sugeno general uncertain uzzy systems. Fuzzy Sets and Systems 2006,157(16):2205- 2223.
http://dx.doi.org/10.1016/j.fss.2006.03.020
Fuwen Yang,Yongmin Li,Set-Membership Fuzzy Filtering for Nonlinear Discrete- Time Systems. EEE Transactions on Fuzzy Systems,2010,40(1):116-123.
B.S.Chen, C.S.Tseng, H.J.Uang. Mixed fuzzy output feedback control design for nonlinear ynamic systems: an LMI approach. IEEE Transactions on Fuzzy Systems,2000,8(3): 249- 65.
http://dx.doi.org/10.1109/91.855915
C.M.Park.LMI-based robust stability analysis for fuzzy feedback linearization regulators with ts application.Information Sciences,2003,152:287-301.
http://dx.doi.org/10.1016/S0020-0255(03)00057-4
Changchun Hua, Qing-Guo Wang , Xinping Guan.Robust Adaptive Controller Design or Nonlinear Time-Delay Systems via T-S Fuzzy Approach. IEEE Transactions on Fuzzy ystems,2009,17(4):901-910.
http://dx.doi.org/10.1109/TFUZZ.2008.924351
Guoliang Wei, Gang Feng, Zidong Wang . Robust H∞ Control for Discrete-Time Fuzzy ystems With Infinite-Distributed Delays.IEEE Transactions on Fuzzy Systems,2009,17(1) 24-232.
Li-Xin Wang. Stable adaptive fuzzy control of nonlinear systems. IEEE Transactions on uzzy Systems, 1993,1(3): 146-155.
http://dx.doi.org/10.1109/91.227383
Weisheng Chen, Zhengqiang Zhang. Globally stable adaptive backstepping fuzzy control for utput-feedback systems with unknown high-frequency gain sign. Fuzzy Sets and Systems, 010, 161(6): 821-836.
Huai-Ning Wu, Kai-Yuan Cai.H2 guaranteed cost fuzzy control for uncertain nonlinear systems ia linear matrix inequalities. Fuzzy Sets and Systems, 2004,148(3):411-429.
http://dx.doi.org/10.1016/j.fss.2003.11.015
Y. Liu, S.S. Hu. Fuzzy Robust Tracking Control for Uncertain Nonlinear Systems. Acta utomatica Sinica. 2004,30(6):949-953.
C. S. Tseng, B. S. Chen, H.J. Uang. Fuzzy tracking control design for nonlinear dynamic ystems via T-S fuzzy model. IEEE Transactions on Fuzzy Systems,2001,9(3): 381-392.
http://dx.doi.org/10.1109/91.928735
DOI:
https://doi.org/10.15837/ijccc.2012.1.1423
Copyright (c) 2017 Zhenbin Du, Tsung-Chih Lin, Valentina E. Balas

This work is licensed under a
Creative Commons Attribution-NonCommercial 4.0 International License
.
CC-BY-NC  License for Website User
Articles published in IJCCC user license are protected by copyright.
Users can access, download, copy, translate the IJCCC articles for non-commercial purposes provided that users, but cannot redistribute, display or adapt:
Cite the article using an appropriate bibliographic citation: author(s), article title, journal, volume, issue, page numbers, year of publication, DOI, and the link to the definitive published version on IJCCC website;
Maintain the integrity of the IJCCC article;
Retain the copyright notices and links to these terms and conditions so it is clear to other users what can and what cannot be done with the  article;
Ensure that, for any content in the IJCCC article that is identified as belonging to a third party, any re-use complies with the copyright policies of that third party;
Any translations must prominently display the statement: "This is an unofficial translation of an article that appeared in IJCCC. Agora University  has not endorsed this translation."
This is a non commercial license where the use of published articles for commercial purposes is forbiden. 
Commercial purposes include: 
Copying or downloading IJCCC articles, or linking to such postings, for further redistribution, sale or licensing, for a fee;
Copying, downloading or posting by a site or service that incorporates advertising with such content;
The inclusion or incorporation of article content in other works or services (other than normal quotations with an appropriate citation) that is then available for sale or licensing, for a fee;
Use of IJCCC articles or article content (other than normal quotations with appropriate citation) by for-profit organizations for promotional purposes, whether for a fee or otherwise;
Use for the purposes of monetary reward by means of sale, resale, license, loan, transfer or other form of commercial exploitation;


The licensor cannot revoke these freedoms as long as you follow the license terms.
[End of CC-BY-NC  License for Website User]
INTERNATIONAL JOURNAL OF COMPUTERS COMMUNICATIONS & CONTROL (IJCCC), With Emphasis on the Integration of Three Technologies (C & C & C),  ISSN 1841-9836.
IJCCC was founded in 2006,  at Agora University, by  Ioan DZITAC (Editor-in-Chief),  Florin Gheorghe FILIP (Editor-in-Chief), and  Misu-Jan MANOLESCU (Managing Editor).
Ethics: This journal is a member of, and subscribes to the principles of, the Committee on Publication Ethics (COPE).
Ioan  DZITAC (Editor-in-Chief) at COPE European Seminar, Bruxelles, 2015:
IJCCC is covered/indexed/abstracted in Science Citation Index Expanded (since vol.1(S),  2006); JCR2016: IF=1.374. .
IJCCC is indexed in Scopus from 2008 (CiteScore 2017 = 1.04; SNIP2017 = 0.616, SJR2017 =0.326):
Nomination by Elsevier for Journal Excellence Award Romania 2015 (SNIP2014 = 1.029): Elsevier/ Scopus
IJCCC was nominated by Elsevier for Journal Excellence Award - "Scopus Awards Romania 2015" (SNIP2014 = 1.029).
IJCCC is in Top 3 of 157 Romanian journals indexed by Scopus (in all fields) and No.1 in Computer Science field by Elsevier/ Scopus.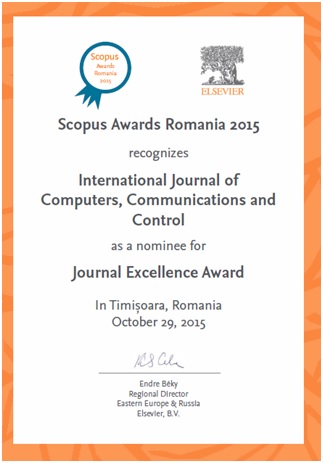 Impact Factor in JCR2017 (Clarivate Analytics/SCI Expanded/ISI Web of Science): IF=1.29 (Q3). Scopus: CiteScore2017=1.04 (Q2); Editors-in-Chief: Ioan DZITAC & Florin Gheorghe FILIP.