Adaptation Mechanism based on Service-Context Distance for Ubiquitous Computing
Abstract
Service adaptation is one of the main research subjects in Ubiquitous Computing. Dynamic service adaptation, at runtime, is necessary for services that cannot be stopped (banking, airport, etc.). The classical approaches for dynamic adaptation require predicting all service and context states in order to specify service and context-specific adaptation policies. This prediction may lead to a combinatorial explosion. The aim of this research is to create a service and context-independent adaptation mechanism. Our proposal is based on a service-context model that is causally connected with the service and context, in a model@run.time paradigm. A closed-loop control principle is used for the adaptation mechanism. We introduce an equivalent for the error that is expressed by the notion of service-context distance. This distance represents a measure of how adequate is a service to its context. This distance is computed by some generic, reusable components. The adaptation algorithm that minimizes this distance is also service and context-independent.
Keywords
Services, Dynamic Adaptation, Context, Autonomic computing, Adaptation Control
References
A. Ketfi, N. Belkhatir, and P.-Y. Cunin, "Automatic adaptation of component-based software: ssues and experiences," in PDPTA '02: Proceedings of the International Conference on arallel and Distributed Processing Techniques and Applications, pp. 1365–1371, CSREA ress, 2002.
B. Morin, O. Barais, J. M. Jezequel, F. Fleurey, and A. Solberg, "Models@ run.time to upport dynamic adaptation," vol. 42, pp. 44–51, October 2009.
M. Cremene, Adaptation Dynamique de Services. PhD thesis, Double coordination between niversity of Savoie, France and Technical University of Cluj-Napoca, Romania, 2005.
J. O. Kephart and D. M. Chess, "The vision of autonomic computing," Computer, vol. 36, o. 1, pp. 41–50, 2003.
D. Cheung-Foo-Wo, J.-Y. Tigli, S. Lavirotte, and M. Riveill, "Self-adaptation of event-driven omponent-oriented middleware using aspects of assembly," in MPAC '07: Proceedings of the th international workshop on Middleware for pervasive and ad-hoc computing, (New York, Y, USA), pp. 31–36, ACM, 2007.
J.-Y. Tigli, S. Lavirotte, G. Rey, V. Hourdin, D. Cheung-Foo-Wo, E. Callegari, and M. Riveill, "WComp Middleware for Ubiquitous Computing: Aspects and Composite Event-based Web ervices," Annals of Telecommunications (AoT), vol. 64, Apr. 2009.
E. Bruneton, T. Coupaye, M. Leclercq, V. Quéma, and J.-B. Stefani, "The fractal component odel and its support in java: Experiences with auto-adaptive and reconfigurable systems," oftw. Pract. Exper., vol. 36, no. 11-12, pp. 1257–1284, 2006.
http://dx.doi.org/10.1002/spe.767
S. Gorappa and R. Klefstad, "Empirical evaluation of openccm for java-based distributed, eal-time, and embedded systems," in SAC '05: Proceedings of the 2005 ACM symposium on pplied computing, (New York, NY, USA), pp. 1288–1292, ACM, 2005.
http://dx.doi.org/10.1145/1066677.1066968
A. Bottaro, A. Gerodolle, and P. Lalanda, "Pervasive service composition in the home network," n AINA '07: Proceedings of the 21st International Conference on Advanced Networking nd Applications, (Washington, DC, USA), pp. 596–603, IEEE Computer Society, 007.
G. Blair, N. Bencomo, and R. B. France, "Models@ run.time," Computer, vol. 42, no. 10, p. 22–27, 2009.
http://dx.doi.org/10.1109/MC.2009.326
M. Cremene, M. Riveill, and C. Martel, "Autonomic adaptation solution based on servicecontext dequacy determination," Electron. Notes Theor. Comput. Sci., vol. 189, pp. 35–50, 007.
M. Cremene, J.-Y. Tigli, S. Lavirotte, F.-C. Pop, M. Riveill, and G. Rey, "Service composition ased on natural language requests," in IEEE SCC, pp. 486–489, 2009.
DOI:
https://doi.org/10.15837/ijccc.2012.1.1422
Copyright (c) 2017 Marcel Cremene, Michel Riveill, Anca Rarau, Costin Miron, Iulian Benta, Valeriu Todica

This work is licensed under a
Creative Commons Attribution-NonCommercial 4.0 International License
.
CC-BY-NC  License for Website User
Articles published in IJCCC user license are protected by copyright.
Users can access, download, copy, translate the IJCCC articles for non-commercial purposes provided that users, but cannot redistribute, display or adapt:
Cite the article using an appropriate bibliographic citation: author(s), article title, journal, volume, issue, page numbers, year of publication, DOI, and the link to the definitive published version on IJCCC website;
Maintain the integrity of the IJCCC article;
Retain the copyright notices and links to these terms and conditions so it is clear to other users what can and what cannot be done with the  article;
Ensure that, for any content in the IJCCC article that is identified as belonging to a third party, any re-use complies with the copyright policies of that third party;
Any translations must prominently display the statement: "This is an unofficial translation of an article that appeared in IJCCC. Agora University  has not endorsed this translation."
This is a non commercial license where the use of published articles for commercial purposes is forbiden. 
Commercial purposes include: 
Copying or downloading IJCCC articles, or linking to such postings, for further redistribution, sale or licensing, for a fee;
Copying, downloading or posting by a site or service that incorporates advertising with such content;
The inclusion or incorporation of article content in other works or services (other than normal quotations with an appropriate citation) that is then available for sale or licensing, for a fee;
Use of IJCCC articles or article content (other than normal quotations with appropriate citation) by for-profit organizations for promotional purposes, whether for a fee or otherwise;
Use for the purposes of monetary reward by means of sale, resale, license, loan, transfer or other form of commercial exploitation;


The licensor cannot revoke these freedoms as long as you follow the license terms.
[End of CC-BY-NC  License for Website User]
INTERNATIONAL JOURNAL OF COMPUTERS COMMUNICATIONS & CONTROL (IJCCC), With Emphasis on the Integration of Three Technologies (C & C & C),  ISSN 1841-9836.
IJCCC was founded in 2006,  at Agora University, by  Ioan DZITAC (Editor-in-Chief),  Florin Gheorghe FILIP (Editor-in-Chief), and  Misu-Jan MANOLESCU (Managing Editor).
Ethics: This journal is a member of, and subscribes to the principles of, the Committee on Publication Ethics (COPE).
Ioan  DZITAC (Editor-in-Chief) at COPE European Seminar, Bruxelles, 2015:
IJCCC is covered/indexed/abstracted in Science Citation Index Expanded (since vol.1(S),  2006); JCR2018: IF=1.585..
IJCCC is indexed in Scopus from 2008 (CiteScore2018 = 1.56):
Nomination by Elsevier for Journal Excellence Award Romania 2015 (SNIP2014 = 1.029): Elsevier/ Scopus
IJCCC was nominated by Elsevier for Journal Excellence Award - "Scopus Awards Romania 2015" (SNIP2014 = 1.029).
IJCCC is in Top 3 of 157 Romanian journals indexed by Scopus (in all fields) and No.1 in Computer Science field by Elsevier/ Scopus.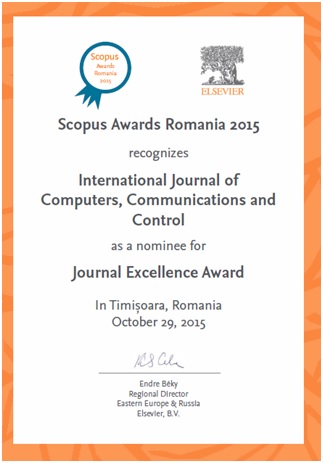 Impact Factor in JCR2018 (Clarivate Analytics/SCI Expanded/ISI Web of Science): IF=1.585 (Q3). Scopus: CiteScore2018=1.56 (Q2);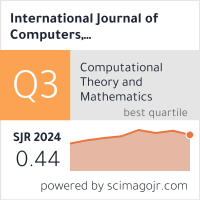 Editors-in-Chief: Ioan DZITAC & Florin Gheorghe FILIP.