A 2-level Metaheuristic for the Set Covering Problem
Abstract
Metaheuristics are solution methods which combine local improvement procedures and higher level strategies for solving combinatorial and nonlinear optimization problems. In general, metaheuristics require an important amount of effort focused on parameter setting to improve its performance. In this work a 2-level metaheuristic approach is proposed so that Scatter Search and Ant Colony Optimization act as "low level" metaheuristics, whose parameters are set by a "higher level" Genetic Algorithm during execution, seeking to improve the performance and to reduce the maintenance. The Set Covering Problem is taken as reference since is one of the most important optimization problems, serving as basis for facility location problems, airline crew scheduling, nurse scheduling, and resource allocation.
Keywords
metaheuristics, genetic algorithm, scatter search, ant colony optimization, set covering problem.
References
B. Crawford, C. Lagos, C. Castro, F. Paredes, A Evolutionary Approach to Solve Set Covering, CEIS 2007 - Proceedings of the Ninth International Conference on Enterprise Information ystems, Volume AIDSS, Funchal, Madeira, Portugal, June 12-16, 2007 (2), pp.356-363, 007
U. Aickelin, An Indirect Genetic Algorithm for Set Covering Problems, Journal of the Operational esearch Society, Vol.53, pp.1118-1126, 2002
F. Tangour, P. Borne, Presentation of Some Metaheuristics for the Optimization of Complex ystems, Studies in Informatics and Control, Vol.17, No.2, pp.169-180, 2008
C-M. Pintea, D. Dumitrescu, The importance of parameters in Ant Systems, INT J COMPUT OMMUN, ISSN 1841-9836, 1(S):376-380, 2006
R. Martí, M. Laguna, Scatter Search: Dise-o Básico y Estrategias, Revista Iberoamericana e Inteligencia, Vol.19, pp.123-130, 2003
D. Gouwanda, S. G. Ponnambalam, Evolutionary Search Techniques to Solve Set Covering roblems, World Academy of Science, Engineering and Technology, Vol.39, pp.20-25, 2008
A. Caprara, M. Fischetti, P. Toth, Algorithms for the Set Covering Problem, Annals of perations Research, Vol.98, 1998
J. E. Beasley, K. Jornsten, Enhancing an algorithm for set covering problems, European ournal of Operational Research, Vol.58, pp.293-300, 1992
C. Cotta, M. Sevaux, K. Sörensen, Adaptive and Multilevel Metaheuristics, Springer, 2008
http://dx.doi.org/10.1007/978-3-540-79438-7
Z. Michalewicz, Genetic algorithms + data structures = evolution programs, Springer, 1996.
http://dx.doi.org/10.1007/978-3-662-03315-9
F. Glover, G. A. Kochenberger, Handbook of metaheuristics, Springer, 2003
B. Crawford, C. Castro, Integrating Lookahead and Post Processing Procedures with ACO or Solving Set Partitioning and Covering Problems, Proceedings of ICAISC, pp.1082-1090, 006
Y. Hamadi, E. Monfroy, F. Saubion, What is Autonomous Search?, Technical Report MSRTR- 008-80, 2008
L. Lessing, I. Dumitrescu, T. Stützle, A Comparison Between ACO Algorithms for the Set overing Problem, it Proceedings of ANTS, pp.1-12, 2004
E. Talbi, Metaheuristics: From Design to Implementation, Wiley Publishing, 2009
http://dx.doi.org/10.1002/9780470496916
R. Battiti, M. Brunato, F. Mascia, Reactive Search and Intelligent Optimization, Springer erlag, 2008
J. E. Beasley, OR Library, http://people.brunel.ac.uk/mastjjb/jeb/info.html
DOI:
https://doi.org/10.15837/ijccc.2012.2.1417
Copyright (c) 2017 Claudio Valenzuela, Broderick Crawford, Ricardo Soto, Eric Monfroy, Fernando Paredes

This work is licensed under a
Creative Commons Attribution-NonCommercial 4.0 International License
.
CC-BY-NC  License for Website User
Articles published in IJCCC user license are protected by copyright.
Users can access, download, copy, translate the IJCCC articles for non-commercial purposes provided that users, but cannot redistribute, display or adapt:
Cite the article using an appropriate bibliographic citation: author(s), article title, journal, volume, issue, page numbers, year of publication, DOI, and the link to the definitive published version on IJCCC website;
Maintain the integrity of the IJCCC article;
Retain the copyright notices and links to these terms and conditions so it is clear to other users what can and what cannot be done with the  article;
Ensure that, for any content in the IJCCC article that is identified as belonging to a third party, any re-use complies with the copyright policies of that third party;
Any translations must prominently display the statement: "This is an unofficial translation of an article that appeared in IJCCC. Agora University  has not endorsed this translation."
This is a non commercial license where the use of published articles for commercial purposes is forbiden. 
Commercial purposes include: 
Copying or downloading IJCCC articles, or linking to such postings, for further redistribution, sale or licensing, for a fee;
Copying, downloading or posting by a site or service that incorporates advertising with such content;
The inclusion or incorporation of article content in other works or services (other than normal quotations with an appropriate citation) that is then available for sale or licensing, for a fee;
Use of IJCCC articles or article content (other than normal quotations with appropriate citation) by for-profit organizations for promotional purposes, whether for a fee or otherwise;
Use for the purposes of monetary reward by means of sale, resale, license, loan, transfer or other form of commercial exploitation;


The licensor cannot revoke these freedoms as long as you follow the license terms.
[End of CC-BY-NC  License for Website User]
INTERNATIONAL JOURNAL OF COMPUTERS COMMUNICATIONS & CONTROL (IJCCC), With Emphasis on the Integration of Three Technologies (C & C & C),  ISSN 1841-9836.
IJCCC was founded in 2006,  at Agora University, by  Ioan DZITAC (Editor-in-Chief),  Florin Gheorghe FILIP (Editor-in-Chief), and  Misu-Jan MANOLESCU (Managing Editor).
Ethics: This journal is a member of, and subscribes to the principles of, the Committee on Publication Ethics (COPE).
Ioan  DZITAC (Editor-in-Chief) at COPE European Seminar, Bruxelles, 2015:
IJCCC is covered/indexed/abstracted in Science Citation Index Expanded (since vol.1(S),  2006); JCR2018: IF=1.585..
IJCCC is indexed in Scopus from 2008 (CiteScore2018 = 1.56):
Nomination by Elsevier for Journal Excellence Award Romania 2015 (SNIP2014 = 1.029): Elsevier/ Scopus
IJCCC was nominated by Elsevier for Journal Excellence Award - "Scopus Awards Romania 2015" (SNIP2014 = 1.029).
IJCCC is in Top 3 of 157 Romanian journals indexed by Scopus (in all fields) and No.1 in Computer Science field by Elsevier/ Scopus.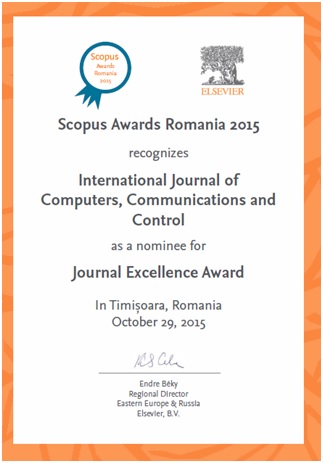 Impact Factor in JCR2018 (Clarivate Analytics/SCI Expanded/ISI Web of Science): IF=1.585 (Q3). Scopus: CiteScore2018=1.56 (Q2);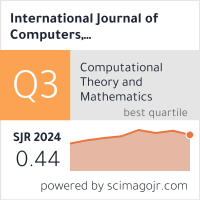 Editors-in-Chief: Ioan DZITAC & Florin Gheorghe FILIP.