Advance and Immediate Request Admission: A Preemptable Service Definition for Bandwidth Brokers
Abstract
Differentiated Services Architecture lacks control level functionalities and Bandwidth Brokers are proposed to fill that gap. In order to provide proper control level functionalities, Bandwidth Brokers need to provide services for both advance requests and immediate requests. There is a tradeoff between preemption of immediate flows and utilization of links. It is important for a resource manager to provide the promised QoS level to a flow without any preemption. In this study, we solve the preemption and the experienced QoS problem by defining a preemptable service and explain how this service works and also show the performance and scalability characteristics of resource manager with the addition of a preemptable service.
Keywords
admission control, IR Flows, AR flows,preemptable forwarding service, quality of services
References
Blake, S. et.al., An Architecture for Differentiated Services, RFC 2475, 1998
Nichols K., Jacobson V., Zhang L., A Two-bit Differentiated Services Architecture for the nternet, RFC 2638, 1999
Mantar H.A., Okumus Ý.T., Hwang J., Chapin S.J., A Scalable Intra-Domain Resource anagement Architecture for Diffserv Networks, Journal of High Speed Networks, 15, 185- 05, 2006
Jacobson V., Nichols K., Poduri K., An Expedited Forwarding PHB, RFC 2598, 1999
Heinanen et.al., Assured Forwarding PHB Group, RFC 2598, 1999
Schelen O., Pink S., Resource Sharing in Advance Request Agents, Journal of High Speed etworks: Special issue on Multimedia Networking, 7(3-4):213-228, 1998
Lin Y., Chang C., Hsu Y., Bandwidth Brokers of Instantenaous and Book-ahead Requests for ifferentiated Services Networks, ICICE Transactions on Communication, E85-B, No.1,278- 83, 2002
Ahmad I., Kamruzzaman J., Aswathanarayaniah S., A Dynamic Approach to Reduce Preemption, n Book-ahead Reservation in QoS-Enabled Networks, Computer Communications, 9(9):1443-1457, 2006
http://dx.doi.org/10.1016/j.comcom.2005.09.009
Degermark M. Et.al., Advance reservationss for Predictive Service in the Internet, Multimedia ystems, 5(3):177-186, 1997
Greenberg A.G., Srikant R., Whitt W., Resource Sharing for Book -Ahead and Instantaneous-Request Calls, IEEE/ACM Transactions on Networking, 7(1):10-22, 1999
http://dx.doi.org/10.1109/90.759312
Srikant R., Whitt W., Resource Sharing for Book-Ahead and Instantaneous-Request Calls sing a CLT Approximation, Telecommunication Systems, 16(3-4):233-253, 2001
http://dx.doi.org/10.1023/A:1016650524348
Karsten M., Beries N., Wolf L., steinmetz R., A Policy-Based Service Specification for esource Reservation in Advance, Proceedings of the International Conference on Computer ommunications (ICCC'99), Tokyo, Japan, 82-88, Sept 1999
Ahmad I., Kamruzzaman J., Preemption Policy in QoS-Enabled Networks: A Customer entric Approach, Journal of Research and Practice in Information technology, 39(1):61-79, 007
Adamson A. et al., QBone Signaling Design Team final Report", Internet2 QBone SinalingWorkgroup, ttp://qos.internet2.edu/wg/documents-informational/20020709-chimentoetal-bone-signaling/, Jul 2002
The Network Simulator - ns-2, http://www.isi.edu/nsnam/ns/
DOI:
https://doi.org/10.15837/ijccc.2012.2.1415
Copyright (c) 2017 Ibrahim Taner Okumus, Ferhat Umut Dizdar

This work is licensed under a
Creative Commons Attribution-NonCommercial 4.0 International License
.
CC-BY-NC  License for Website User
Articles published in IJCCC user license are protected by copyright.
Users can access, download, copy, translate the IJCCC articles for non-commercial purposes provided that users, but cannot redistribute, display or adapt:
Cite the article using an appropriate bibliographic citation: author(s), article title, journal, volume, issue, page numbers, year of publication, DOI, and the link to the definitive published version on IJCCC website;
Maintain the integrity of the IJCCC article;
Retain the copyright notices and links to these terms and conditions so it is clear to other users what can and what cannot be done with the  article;
Ensure that, for any content in the IJCCC article that is identified as belonging to a third party, any re-use complies with the copyright policies of that third party;
Any translations must prominently display the statement: "This is an unofficial translation of an article that appeared in IJCCC. Agora University  has not endorsed this translation."
This is a non commercial license where the use of published articles for commercial purposes is forbiden. 
Commercial purposes include: 
Copying or downloading IJCCC articles, or linking to such postings, for further redistribution, sale or licensing, for a fee;
Copying, downloading or posting by a site or service that incorporates advertising with such content;
The inclusion or incorporation of article content in other works or services (other than normal quotations with an appropriate citation) that is then available for sale or licensing, for a fee;
Use of IJCCC articles or article content (other than normal quotations with appropriate citation) by for-profit organizations for promotional purposes, whether for a fee or otherwise;
Use for the purposes of monetary reward by means of sale, resale, license, loan, transfer or other form of commercial exploitation;


The licensor cannot revoke these freedoms as long as you follow the license terms.
[End of CC-BY-NC  License for Website User]
INTERNATIONAL JOURNAL OF COMPUTERS COMMUNICATIONS & CONTROL (IJCCC), With Emphasis on the Integration of Three Technologies (C & C & C),  ISSN 1841-9836.
IJCCC was founded in 2006,  at Agora University, by  Ioan DZITAC (Editor-in-Chief),  Florin Gheorghe FILIP (Editor-in-Chief), and  Misu-Jan MANOLESCU (Managing Editor).
Ethics: This journal is a member of, and subscribes to the principles of, the Committee on Publication Ethics (COPE).
Ioan  DZITAC (Editor-in-Chief) at COPE European Seminar, Bruxelles, 2015:
IJCCC is covered/indexed/abstracted in Science Citation Index Expanded (since vol.1(S),  2006); JCR2018: IF=1.585..
IJCCC is indexed in Scopus from 2008 (CiteScore2018 = 1.56):
Nomination by Elsevier for Journal Excellence Award Romania 2015 (SNIP2014 = 1.029): Elsevier/ Scopus
IJCCC was nominated by Elsevier for Journal Excellence Award - "Scopus Awards Romania 2015" (SNIP2014 = 1.029).
IJCCC is in Top 3 of 157 Romanian journals indexed by Scopus (in all fields) and No.1 in Computer Science field by Elsevier/ Scopus.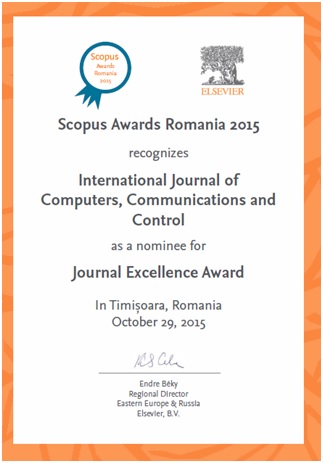 Impact Factor in JCR2018 (Clarivate Analytics/SCI Expanded/ISI Web of Science): IF=1.585 (Q3). Scopus: CiteScore2018=1.56 (Q2);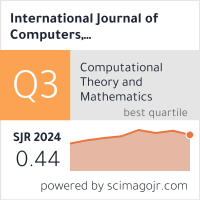 Editors-in-Chief: Ioan DZITAC & Florin Gheorghe FILIP.