A Decision-Making Perspective for Designing and Building Information Systems
Abstract
This paper aims at highlighting several aspects and associated decision situations which may be met in the process of designing and building modern information systems, such as: choosing the approach and methods to be utilized for building the system and selecting the IT tools, integrating the system into the enterprise and evaluating the project. A particular emphasis is put on evaluation criteria to be utilized in solving the various decision problems.
Keywords
decision criteria, IT&C tools, methodology, prototype, SaaS, standards
References
Al-adaileh R. M, An evaluation of information systems success: A user perspective - the case f Jordan Telecom group, European Journal of Scientific Research, 37(2):226-239, 2009
Agouram H., Defining information system success in Germany, International Journal of Information anagement, 29:129-137, 2009
Bizoi, M., Sisteme support pentru decizii bazate pe comunicatii (Communication-Based Decision upport Systems), Ph.D. Thesis, (in Romanian), (http://www.racai.ro/Doctorate/Bizoi_ezumat_teza.pdf, 2010, accessed on 09.07.2011)
Carraro G., Chong F., Software as a Service (SaaS): An Enterprise Perspective, SDN Library (http://msdn.microsoft.com/en-us/library/aa905332.aspx, 2006, accessed on 9.02.2012)
Cojocaru S., Interfete inteligente ("Intelligent Interfaces"), in [9], pp. 213-215, 2007
Filip F. G., Towards more humanized real-time decision support systems, In Balanced Automation ystems: Architectures and Design Methods (L. Camarinha-Matos, H. Afsarmanesh, ds), Chapman & Hall, London, pp. 230-240, 1995
http://dx.doi.org/10.1007/978-0-387-34910-7_22
Filip F.G., Decizie asistata de calculator; decizii, decidenti, metode de baza si instrumente nformatice associate ("Computer-Aided Decision-Making; Decisions, Decision-Makers, Basic ethods and Software Tools"), 2nd Edition, Editura Tehnica, Bucuresti(in Romanian), 2005
Filip F. G., Sisteme support pentru decizii ("Decision Support Systems"), 2nd Edition, Editura ehnica, Bucuresti (in Romanian), 2007
Filip F.G., Designing and building modern information systems: a series of decisions to be ade, Computer Science Journal of Moldova, 119-129, 2011
Hamilton S., Chervany N.L., Evaluating Information System Effectiveness - Part I: Comparing valuation Approaches, MIS Quarterly, 5(3):55-69, 1981
http://dx.doi.org/10.2307/249291
Hine J., Laliberte B., Enabling IT as a Service, White Paper. ESG (http://www.cisco.om/en/US/prod/collateral/netmgtsw/ps6505/ps11869/esg_enabling_it.pdf, 2011
Gaindric C., Luarea deciziilor: metode si tehnologii ("Decision Making: Methods and Technologies"), ditura Stiinta, Chisinau (in Romanian), 1998
ISO 9241 Ergonomics of human-system interaction, 2012 ttp://www.iso.org/iso/search.htm?qt=9241&sort=rel&type=simple&published=on; accessed n 09.02.2012)
Kolb D.A., Frohman A. L., An organization development approach to consulting, Sloan anagement Review, 12(4):51-65, 1970
Gang Kou, Yanqun Lu, Yi Peng, and Yong Shi, Evaluation of classification algorithms using DM and Rank Correlation, International Journal of Information Technology & Decision aking, Vol. 11, Issue: 1, DOI: 10.1142/S0219622012004872, 2012.
Moriso M., Tsoukias A., JusWare: a methology for evaluation and selection of software roducts, IEE Proc-Softw. Eng., 144(2):162-174, 1997
http://dx.doi.org/10.1049/ip-sen:19971350
Ness D.N., Decision support systems: theory and design, In Wharton Office of Naval Research n DSS, Philadelphia, November, pp. 4-7, 1975
PP: Project Perfect: Project Management Software, 2012 ttp://www.projectperfect.com.au/, 2012, accessed on 09.02.2012)
Resteanu C., Somodi M., Alexe B., Multi-Attribute Decision-Making; E-course, ICI, ucharest, 2007
Shelly G. B., Cashmanan T. J., Rosenblatt H.J., Systems Analysis and Design, 8th Ed., homson Course Technology, Boston, Mass, 2010
SR: Soft Resources: Empowering Software Decisions, 2012, (http://www.softresources.com/, accessed on 06.02.2012)
Sprague jr. R. H., Carlson E. D., Building Effective Decision Support Systems, Prentice Hall, nglewood Cliffs, N. J., 1982
Suduc A.M., Interfete avansate pentru sisteme support pentru decizii("Advanced Interfaces or DSS"), PhD Thesis, (in Romanian), 2010 (http://www.racai.ro/Doctorate/Suduc_Rezumat_eza.pdf, accessed on 09.07.2011)
TEC: Technology Evaluation Center, 2011, (http://www.technologyevaluation.com/software/, ccessed on 09.07.2011)
Trumba, White Paper: Five Benefits of Software as a Service, 2007 (http://www.trumba.com/connect/knowledgecenter/software_as_a_service.aspx, accessed n 09.02.2012)
Vernadat A., Enterprise Modeling and Integration Principles and Applications, Chapman & all, London, 1996
Vlahavas I., Stamelos Refanidis I., Tsoukias A., ESSE: an expert system for software evaluation, nowledge-Based Systems, 12(4):183-197, 1999
DOI:
https://doi.org/10.15837/ijccc.2012.2.1408
Copyright (c) 2017 Florin Gheorghe Filip

This work is licensed under a
Creative Commons Attribution-NonCommercial 4.0 International License
.
IJCCC is an Open Access Journal : CC-BY-NC.
Articles published in IJCCC user license are protected by copyright.
Users can access, download, copy, translate the IJCCC articles for non-commercial purposes provided that users, but cannot redistribute, display or adapt:
Cite the article using an appropriate bibliographic citation: author(s), article title, journal, volume, issue, page numbers, year of publication, DOI, and the link to the definitive published version on IJCCC website;
Maintain the integrity of the IJCCC article;
Retain the copyright notices and links to these terms and conditions so it is clear to other users what can and what cannot be done with the  article;
Ensure that, for any content in the IJCCC article that is identified as belonging to a third party, any re-use complies with the copyright policies of that third party;
Any translations must prominently display the statement: "This is an unofficial translation of an article that appeared in IJCCC. Agora University  has not endorsed this translation."
This is a non commercial license where the use of published articles for commercial purposes is forbiden. 
Commercial purposes include: 
Copying or downloading IJCCC articles, or linking to such postings, for further redistribution, sale or licensing, for a fee;
Copying, downloading or posting by a site or service that incorporates advertising with such content;
The inclusion or incorporation of article content in other works or services (other than normal quotations with an appropriate citation) that is then available for sale or licensing, for a fee;
Use of IJCCC articles or article content (other than normal quotations with appropriate citation) by for-profit organizations for promotional purposes, whether for a fee or otherwise;
Use for the purposes of monetary reward by means of sale, resale, license, loan, transfer or other form of commercial exploitation;


The licensor cannot revoke these freedoms as long as you follow the license terms.
[End of CC-BY-NC  License for Website User]
INTERNATIONAL JOURNAL OF COMPUTERS COMMUNICATIONS & CONTROL (IJCCC), With Emphasis on the Integration of Three Technologies (C & C & C),  ISSN 1841-9836.
IJCCC was founded in 2006,  at Agora University, by  Ioan DZITAC (Editor-in-Chief),  Florin Gheorghe FILIP (Editor-in-Chief), and  Misu-Jan MANOLESCU (Managing Editor).
Ethics: This journal is a member of, and subscribes to the principles of, the Committee on Publication Ethics (COPE).
Ioan  DZITAC (Editor-in-Chief) at COPE European Seminar, Bruxelles, 2015:
IJCCC is covered/indexed/abstracted in Science Citation Index Expanded (since vol.1(S),  2006); JCR2018: IF=1.585..
IJCCC is indexed in Scopus from 2008 (CiteScore2018 = 1.56):
Nomination by Elsevier for Journal Excellence Award Romania 2015 (SNIP2014 = 1.029): Elsevier/ Scopus
IJCCC was nominated by Elsevier for Journal Excellence Award - "Scopus Awards Romania 2015" (SNIP2014 = 1.029).
IJCCC is in Top 3 of 157 Romanian journals indexed by Scopus (in all fields) and No.1 in Computer Science field by Elsevier/ Scopus.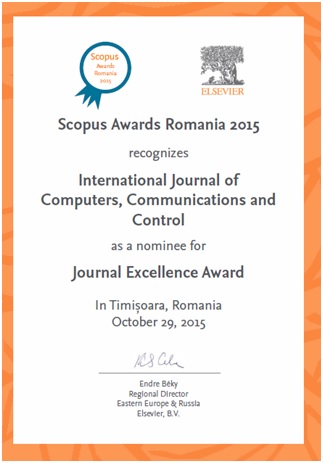 Impact Factor in JCR2018 (Clarivate Analytics/SCI Expanded/ISI Web of Science): IF=1.585 (Q3). Scopus: CiteScore2018=1.56 (Q2);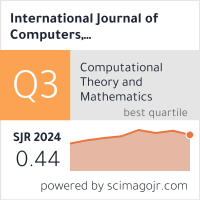 Editors-in-Chief: Ioan DZITAC & Florin Gheorghe FILIP.