Multi-attribute Collaborative Filtering Recommendation based on Improved Group Decision-making
Abstract
Currently researchers in the field of personalized recommendations bear little consideration on users' interest differences in resource attributes although resource attribute is usually one of the most important factors in determining user preferences. To solve this problem, the paper builds an evaluation model of user interest based on resource multi-attributes, proposes a modified Pearson-Compatibility multi-attribute group decision-making algorithm, and introduces an algorithm to solve the recommendation problem of k-neighbor similar users. Considering the characteristics of collaborative filtering recommendation, the paper addresses the issues on the preference differences of similar users, incomplete values, and advanced converge of the algorithm. Thus the paper realizes multi-attribute collaborative filtering. Finally, the effectiveness of the algorithm is proved by an experiment of collaborative recommendation among multi-users based on virtual environment. The experimental results show that the algorithm has a high accuracy on predicting target users' attribute preferences and has a strong anti-interference ability on deviation and incomplete values.
Keywords
personalized recommendation; Pearson-Compatibility; group decision-making; multi-attribute; collaborative filtering
References
G. Adomavicius, A. Tuzhilin (2005); Toward the next generation of recommender systems: a survey of the state-of-the-art and possible extensions, IEEE Trans. on Knowl. and Data Eng., 17(6):734-749.
http://dx.doi.org/10.1109/TKDE.2005.99
Xiaoyuan Su, Taghi M. Khoshgoftaar(2009); A survey of collaborative filtering techniques, Advances in Artificial Intelligence, 2009:1-19.
D. Goldberg, D. Nichols, B. M. Oki, D. Terry(1992); Using collaborative filtering to weave an information tapestry, Communications of ACM, 35(12):61-70.
http://dx.doi.org/10.1145/138859.138867
P. Resnick, H. R. Varian(1997); Recommender systems, Communications of the ACM, 40(3):56-58.
http://dx.doi.org/10.1145/245108.245121
K. Goldberg, T. Roeder, D. Gupta, C. Perkins (2001); Eigentaste: a constant time collaborative filtering algorithm, Information Retrieval, 4(2):133-151.
http://dx.doi.org/10.1023/A:1011419012209
C. Yu, Y. Luo, K. Liu(2014); A multi-attribute collaborative filtering recommendation algorithm based on improved group decision-making, ICISO 2014, IFIP AICT, 426:320-330.
F. Herrera, E. Herrera-Viedma, F. Chiclana (2001); Multiperson decision-making based in multiplicative preference relation, European J. of Operational Research, 129:372-385.
http://dx.doi.org/10.1016/S0377-2217(99)00197-6
A. Shepitsen, J. Gemmell, B. Mobasher, R. Burke (2008); Personalized recommendation in social tagging systems using hierarchical clustering, Proc. of the 2008 ACM conference on Recommender systems, Lausanne, Switzerland.
A. Ypma, T. Heskes (2002); Categorization of Web pages and user clustering with mixtures of hidden Markov models, Proc. of the WEBKDD 2002 Workshop: Web Mining for Usage Patterns and User Profiles, SIGKDD 2002, Edmonton, Alberta, Canada.
Z.S. Hua, B.G. Gong, X.Y. Xu (2008); A DS–AHP approach for multi-attribute decision making problem with incomplete information, Expert Systems with Applications, 34(3):2221- 2227.
http://dx.doi.org/10.1016/j.eswa.2007.02.021
H. Jeon, T. Kim, J. Choi (2010); Personalized information retrieval by usingadaptive user profiling and collaborative filtering, AISS: Advances in Information Sciences and Service Sciences, 2(4):134-142.
Liu, A., Yang, Z.(2010); Watching, thinking, reacting: a human-centered framework formovie content analysis, International Journal of Digital Content Technology and its Applications, 4(5):23-37.
Y. Dong , Y. Chen, S. Wang (2004); Algorithm of solving weights for group decision making by improving compatibility, Systems Engineering-theory & Practice, 2004-10.
C.-S. Yu (2002); A GP-AHP method for solving group decision-making fuzzy AHP problems, Computers & Operations Research, 29(14): 1969-2001.
http://dx.doi.org/10.1016/S0305-0548(01)00068-5
Y. Zhang, H. Wang (2002); Development and application of P-S aided decision system, Systems Engineering-Theory Methodology Application, 2002-04.
L. Liang, L. Xiong, G.Wang (2004); A new method of determining the reliability of decisionmakers in group decision, Systems Engineering, 22(6):91-94.
J. Barzilai, F. A. Lootsma (1994); Power relations and group aggregation in the multiplicative AHP and SMART, Proc. 3rd Int. Symp. AHP, 157-168.
J. Sun, W. Xu, Q.D. Wu(2005); A new algorithm for incomplete matrixes' compatibility improvement and group ranking in group decision making, Systems Engineering-Theory & Practice, 10(10):89-94.
DOI:
https://doi.org/10.15837/ijccc.2015.5.1379
Copyright (c) 2017 Changrui Yu, Luo Yan, Liu Kecheng

This work is licensed under a
Creative Commons Attribution-NonCommercial 4.0 International License
.
IJCCC is an Open Access Journal : CC-BY-NC.
Articles published in IJCCC user license are protected by copyright.
Users can access, download, copy, translate the IJCCC articles for non-commercial purposes provided that users, but cannot redistribute, display or adapt:
Cite the article using an appropriate bibliographic citation: author(s), article title, journal, volume, issue, page numbers, year of publication, DOI, and the link to the definitive published version on IJCCC website;
Maintain the integrity of the IJCCC article;
Retain the copyright notices and links to these terms and conditions so it is clear to other users what can and what cannot be done with the  article;
Ensure that, for any content in the IJCCC article that is identified as belonging to a third party, any re-use complies with the copyright policies of that third party;
Any translations must prominently display the statement: "This is an unofficial translation of an article that appeared in IJCCC. Agora University  has not endorsed this translation."
This is a non commercial license where the use of published articles for commercial purposes is forbiden. 
Commercial purposes include: 
Copying or downloading IJCCC articles, or linking to such postings, for further redistribution, sale or licensing, for a fee;
Copying, downloading or posting by a site or service that incorporates advertising with such content;
The inclusion or incorporation of article content in other works or services (other than normal quotations with an appropriate citation) that is then available for sale or licensing, for a fee;
Use of IJCCC articles or article content (other than normal quotations with appropriate citation) by for-profit organizations for promotional purposes, whether for a fee or otherwise;
Use for the purposes of monetary reward by means of sale, resale, license, loan, transfer or other form of commercial exploitation;


The licensor cannot revoke these freedoms as long as you follow the license terms.
[End of CC-BY-NC  License for Website User]
INTERNATIONAL JOURNAL OF COMPUTERS COMMUNICATIONS & CONTROL (IJCCC), With Emphasis on the Integration of Three Technologies (C & C & C),  ISSN 1841-9836.
IJCCC was founded in 2006,  at Agora University, by  Ioan DZITAC (Editor-in-Chief),  Florin Gheorghe FILIP (Editor-in-Chief), and  Misu-Jan MANOLESCU (Managing Editor).
Ethics: This journal is a member of, and subscribes to the principles of, the Committee on Publication Ethics (COPE).
Ioan  DZITAC (Editor-in-Chief) at COPE European Seminar, Bruxelles, 2015:
IJCCC is covered/indexed/abstracted in Science Citation Index Expanded (since vol.1(S),  2006); JCR2018: IF=1.585..
IJCCC is indexed in Scopus from 2008 (CiteScore2018 = 1.56):
Nomination by Elsevier for Journal Excellence Award Romania 2015 (SNIP2014 = 1.029): Elsevier/ Scopus
IJCCC was nominated by Elsevier for Journal Excellence Award - "Scopus Awards Romania 2015" (SNIP2014 = 1.029).
IJCCC is in Top 3 of 157 Romanian journals indexed by Scopus (in all fields) and No.1 in Computer Science field by Elsevier/ Scopus.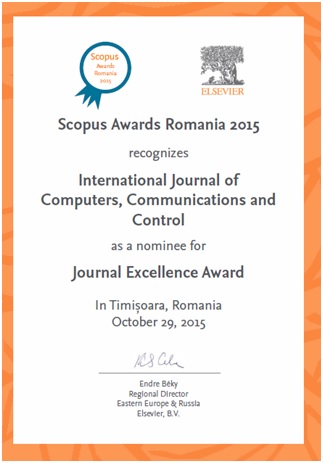 Impact Factor in JCR2018 (Clarivate Analytics/SCI Expanded/ISI Web of Science): IF=1.585 (Q3). Scopus: CiteScore2018=1.56 (Q2);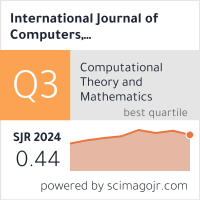 Editors-in-Chief: Ioan DZITAC & Florin Gheorghe FILIP.