Mobile Network QoE-QoS Decision Making Tool for Performance Optimization in Critical Web Service
Abstract
Regardless of the type of service that a company offers the customer satisfaction is a factor for success, if these services are in a highly competitive environment. This situation encourages companies to develop strategies to improve the Quality of the Experience (QoE) of their users. Strategies include improving their processes, or infrastructure for provisioning the services. Take these kind of decisions is very difficult because they ignore how the Key Performance Indicators (KPI) services are correlated with the information about user experience. This problem is approached from the perspective of mobile telecom operators, who have addressed this challenge through the Quality of Service (QoS) concept. Unfortunately, the QoS is only characterized by technical aspects, the user's criteria are not included. Into a highly competitive environment, the user's loyalty is a key component to be considered in the operator's development plan. Nowadays, the mobile telecom operators focus their efforts to ensure not only the QoS but also the QoE. The aim of this paper was the develop a decision making tool that allows the mobile telco operators support their determinations about the maintenance of network infrastructure, as well as the expansion of the same, specifically for their critical web services; based in a correlated information between QoS and QoE. This tool was developed on the basis of the Pseudo Subjective Quality Assessment (PSQA) methodology.
Keywords
Decision making tool, Pseudo subjective quality assessment, Quality of experience, Quality of service, Web services
References
ITU - T., Terms and Definitions Related to Quality of Service and Network Performance including Dependability, International Telecommunication Union., Recommendation E.800, 1995.
W. C. Hardy, QoS: Measurement and Evaluation of Telecommunications Quality of Service: Baffins Lane, Chichester, United Kingdom: John Wiley & Sons, Ltd., 2001.
R. Stankiewicz, P. Cholda, and A. Jajszczyk, QoX: What is It Really?, IEEE Communications Magazine, 49(4):148 - 158, 2011.
http://dx.doi.org/10.1109/MCOM.2011.5741159
G. Rubino. The PSQA project. [Online]. http://www.irisa.fr/armor/lesmembres/Rubino/myPages/psqa.html
B. Hestnes, P. Brooks, and S. Heiestad, QoE (Quality of Experience) - measuring QoE for improving the usage of telecommunication services, Telenor, Research Report 2009.
A. van Moorsel, Metrics for the Internet Age: Quality of Experience and Quality of Business, Hewlett - Packard Laboratories, Palo Alto, California, USA, HPL-2001-179, 2001.
K. Bharrathsingh, Quality of experience as an integral part of network engineering, Focus in Convergence, vol. 1, February 2005.
J. Kim, T.W. Um, Ryu W., and B. Sun Lee, Heterogeneous Networks and Terminal-Aware QoS/QoE- Guaranteed Mobile IPTV Service, IEEE Communications Magazine, 46(5):110 - 117, 2008.
http://dx.doi.org/10.1109/MCOM.2008.4557052
H.J. Kim and S.G. Choi, A Study on a QoS/QoE Correlation Model for QoE Evaluation on IPTV Service, in The 12th International Conference on Advanced Communication Technology (ICACT 2010), Gangwon-Do, Korea, 2:11077 - 1382, 2010.
M. Siller and J.C. Woods, QoS Arbitration for Improving the QoE in Multimedia Transmission, Int. Conf. on Visual Information Engineering (VIE 2003), 238 - 241, 2003.
S. Khirman and P. Henriksen, Relationship between Quality-of-Service and Quality-of- Experience for Public Internet Service, Passive and Active Measurement Conference, Palo Alto, California, USA, 1 - 6, 2002.
M. Fiedler, T. Hossfeld, and Phuoc Tran-Gia, A Generic Quantitative Relationship between Quality of Experience and Quality of Service, IEEE Network, 24(2):36 -41, March - April 2010.
http://dx.doi.org/10.1109/MNET.2010.5430142
H.J. Kim et al., The QoE Evaluation Method through the QoS-QoE Correlation Model, Fourth Int. Conf. on Networked Computing and Advanced Information Management (NCM '08), 2:719-725, 2008.
http://dx.doi.org/10.1109/NCM.2008.202
C. Guo, Y. Liu, and Y. Liu H. Du, Research on relationship between QoE and QoS based on BP Neural Network, IEEE Int. Conf. on Network Infrastructure and Digital Content (IC-NIDC 2009), 312 - 315, 2009.
P. Brooks and B. Hestnes, User Measures of Quality of Experience: Why Being Objective and Quantitative Is Important, IEEE Networks, 24(2): 8 - 13, March - April, 2010.
http://dx.doi.org/10.1109/MNET.2010.5430138
A. Sánchez-Macián, D. López, J. E. López de Vergara, and E. Pastor, A Framework for the Automatic Calculation of Quality of Experience in Telematic Services, Proc. of the 13th HP-OVUA Workshop, Côte d'Azur, 1-6, 2006.
R. Kooij, D. De Vleeschauwer, K. Brunnström, and F. Kuipers, Techniques for Measuring Quality of Experience, WWIC 2010, 216 - 217, 2010.
G. Rubino, P Tirilly, and M.Varela, Evaluating Users' Satisfaction in Packet Networks Using Random Neural Networks, Proceedings of ICANN'06, Athens, Greece, 303-312, 2006.
E. Ibarrola, F. Liberal, I. Taboada, and R. Ortega, Web QoE Evaluation in Multi-agent Networks: Validation of ITU-T G.1030, Fifth Int. Conf. on Autonomic and Autonomous Systems (ICAS '09), 289 - 294, 2009.
European Telecommunications Standards Institute, "Speech Processing, Transmission and Quality Aspects (STQ); User related QoS parameter definitions and measurements., European Telecommunications Standards Institute, Sophia Antipolis Cedex - FRANCE, Standard ETSI EG 202 057-2 V1.3.1, 2009.
DOI:
https://doi.org/10.15837/ijccc.2012.5.1344
Copyright (c) 2017 Carlos Lozano-Garzon, Christian Ariza-Porras, Sebastián Rivera-Díaz, Horacio Riveros-Ardila, Yezid Donoso

This work is licensed under a
Creative Commons Attribution-NonCommercial 4.0 International License
.
CC-BY-NC  License for Website User
Articles published in IJCCC user license are protected by copyright.
Users can access, download, copy, translate the IJCCC articles for non-commercial purposes provided that users, but cannot redistribute, display or adapt:
Cite the article using an appropriate bibliographic citation: author(s), article title, journal, volume, issue, page numbers, year of publication, DOI, and the link to the definitive published version on IJCCC website;
Maintain the integrity of the IJCCC article;
Retain the copyright notices and links to these terms and conditions so it is clear to other users what can and what cannot be done with the  article;
Ensure that, for any content in the IJCCC article that is identified as belonging to a third party, any re-use complies with the copyright policies of that third party;
Any translations must prominently display the statement: "This is an unofficial translation of an article that appeared in IJCCC. Agora University  has not endorsed this translation."
This is a non commercial license where the use of published articles for commercial purposes is forbiden. 
Commercial purposes include: 
Copying or downloading IJCCC articles, or linking to such postings, for further redistribution, sale or licensing, for a fee;
Copying, downloading or posting by a site or service that incorporates advertising with such content;
The inclusion or incorporation of article content in other works or services (other than normal quotations with an appropriate citation) that is then available for sale or licensing, for a fee;
Use of IJCCC articles or article content (other than normal quotations with appropriate citation) by for-profit organizations for promotional purposes, whether for a fee or otherwise;
Use for the purposes of monetary reward by means of sale, resale, license, loan, transfer or other form of commercial exploitation;


The licensor cannot revoke these freedoms as long as you follow the license terms.
[End of CC-BY-NC  License for Website User]
INTERNATIONAL JOURNAL OF COMPUTERS COMMUNICATIONS & CONTROL (IJCCC), With Emphasis on the Integration of Three Technologies (C & C & C),  ISSN 1841-9836.
IJCCC was founded in 2006,  at Agora University, by  Ioan DZITAC (Editor-in-Chief),  Florin Gheorghe FILIP (Editor-in-Chief), and  Misu-Jan MANOLESCU (Managing Editor).
Ethics: This journal is a member of, and subscribes to the principles of, the Committee on Publication Ethics (COPE).
Ioan  DZITAC (Editor-in-Chief) at COPE European Seminar, Bruxelles, 2015:
IJCCC is covered/indexed/abstracted in Science Citation Index Expanded (since vol.1(S),  2006); JCR2018: IF=1.585..
IJCCC is indexed in Scopus from 2008 (CiteScore2018 = 1.56):
Nomination by Elsevier for Journal Excellence Award Romania 2015 (SNIP2014 = 1.029): Elsevier/ Scopus
IJCCC was nominated by Elsevier for Journal Excellence Award - "Scopus Awards Romania 2015" (SNIP2014 = 1.029).
IJCCC is in Top 3 of 157 Romanian journals indexed by Scopus (in all fields) and No.1 in Computer Science field by Elsevier/ Scopus.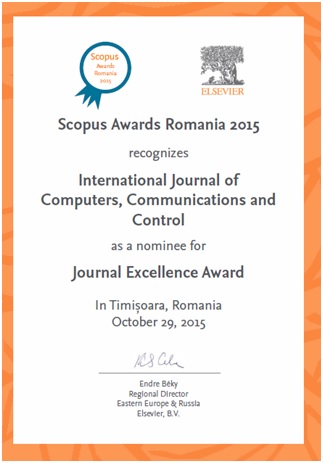 Impact Factor in JCR2018 (Clarivate Analytics/SCI Expanded/ISI Web of Science): IF=1.585 (Q3). Scopus: CiteScore2018=1.56 (Q2);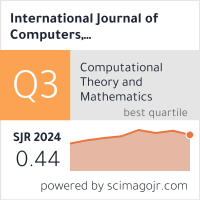 Editors-in-Chief: Ioan DZITAC & Florin Gheorghe FILIP.