Visual Depth Perception of 3D CAD Models in Desktop and Immersive Virtual Environments
Abstract
In this paper is presented an experimental study that aims to compare the depth perception of virtual prototypes in immersive virtual environments with the depth perception of CAD models using 2D LCD display. First, a multipurpose solution of a large-scale interactive multi wall projected virtual environment named Holo-CAVE is described and then the conducted experiments are presented. The experiments carried out highlight that perceived depth values estimated for virtual prototypes are significantly influenced by the 3D stereoscopic visualization. Another interesting result of the study is that the estimated depth accuracy increases with the depth size that has to be perceived. The results of experimental study illustrate that the use of immersive stereoscopic visualization is useful during Computer Aided Design related activities.
Keywords
virtual reality, computer aided design, immersive 3D systems
References
Bourdot, P.; Convard, T.; Picon, F.; Ammi, M.; Touraine, D.; Vezien, J.-M.(2010); VR-CAD integration: Multimodal immersive interaction and advanced haptic paradigms for implicit edition of CAD models, Comput. Aided Des, 42(5): 445-461.
http://dx.doi.org/10.1016/j.cad.2008.10.014
Cruz-Neira, C.(1995); Virtual Reality Based on Multiple Projection Screens: The Cave and its Applications to Computational Science and Engineering, Ph.D. Dissertation, University of Illinois at Chicago, Chicago, IL, USA. UMI Order No. GAX95-32383.
Foley, L. M.(1991); Stereoscopic distance perception, Pictorial communication in virtual and real environments, Stephen R. Ellis (Ed.). Taylor & Francis, Inc., Bristol, PA, USA, 558-566.
Grossman, T.; Balakrishnan R.(2006); An evaluation of depth perception on volumetric displays, Proceedings of the working conference on Advanced visual interfaces (AVI '06), ACM, New York, NY, USA, 193-200.
Hoskinson, R.; Akai C.; Fisher, B.; Dill, J; Po B.(2004); Causes of depth perception errors in stereo displays, Proceedings of the 1st Symposium on Applied perception in graphics and visualization, ACM, New York, NY, USA, 164-164.
Lang, M.; Hornung, A.; Wang, O.; Poulakos, S.; Smolic, A.; Gross, M.(2010); Nonlinear disparity mapping for stereoscopic 3D, ACM Transactions on Graphics, 29(4): 1-10.
Nonlinear disparity mapping for stereoscopic 3D, ACM Transactions on Graphics, 29(4): 1-10.
Raposo, A.; Soares, L; Wagner, G.; Corseuil, E.; Gattass, M.; Santos I.;(2009); Environ: integrating VR and CAD in engineering projects, IEEE Comput. Graph. Appl., 29(6): 91-95.
http://dx.doi.org/10.1109/MCG.2009.118
Reichelt, S.; Haussler, R.; Futterer, G.; Leister, N.(2010); Depth cues in human visual perception and their realization in 3D displays, Three Dimensional Imaging, Visualization and Display, Bahram Javidi and Jung-Young Son(Ed.), Proc SPIE 7690, 134-144.
Svarverud, E.; Gilson, S.J.; Glennerster, A. (2010); Cue combination for 3D location judgements, Journal of Vision, 10(1): 1-13.
Cue combination for 3D location judgements, Journal of Vision, 10(1): 1-13.
Weidlich, D.; Cser, L.; Polzin, T.; Cristiano, D.; Zickner, H. (2009); Virtual reality approaches for immersive design, Int. J. on Interactive Design and Manufacturing, 3: 103-108.
http://dx.doi.org/10.1007/s12008-009-0063-y
www.web3d.org/x3d/specifications/vrml/ISO-IEC-14772-VRML97/
http://www.barco.com/fr/virtualreality/product/961
DOI:
https://doi.org/10.15837/ijccc.2012.5.1339
Copyright (c) 2017 Florin Gîrbacia, Andreea Beraru, Doru Talabă, Gheorghe Mogan

This work is licensed under a
Creative Commons Attribution-NonCommercial 4.0 International License
.
CC-BY-NC  License for Website User
Articles published in IJCCC user license are protected by copyright.
Users can access, download, copy, translate the IJCCC articles for non-commercial purposes provided that users, but cannot redistribute, display or adapt:
Cite the article using an appropriate bibliographic citation: author(s), article title, journal, volume, issue, page numbers, year of publication, DOI, and the link to the definitive published version on IJCCC website;
Maintain the integrity of the IJCCC article;
Retain the copyright notices and links to these terms and conditions so it is clear to other users what can and what cannot be done with the  article;
Ensure that, for any content in the IJCCC article that is identified as belonging to a third party, any re-use complies with the copyright policies of that third party;
Any translations must prominently display the statement: "This is an unofficial translation of an article that appeared in IJCCC. Agora University  has not endorsed this translation."
This is a non commercial license where the use of published articles for commercial purposes is forbiden. 
Commercial purposes include: 
Copying or downloading IJCCC articles, or linking to such postings, for further redistribution, sale or licensing, for a fee;
Copying, downloading or posting by a site or service that incorporates advertising with such content;
The inclusion or incorporation of article content in other works or services (other than normal quotations with an appropriate citation) that is then available for sale or licensing, for a fee;
Use of IJCCC articles or article content (other than normal quotations with appropriate citation) by for-profit organizations for promotional purposes, whether for a fee or otherwise;
Use for the purposes of monetary reward by means of sale, resale, license, loan, transfer or other form of commercial exploitation;


The licensor cannot revoke these freedoms as long as you follow the license terms.
[End of CC-BY-NC  License for Website User]
INTERNATIONAL JOURNAL OF COMPUTERS COMMUNICATIONS & CONTROL (IJCCC), With Emphasis on the Integration of Three Technologies (C & C & C),  ISSN 1841-9836.
IJCCC was founded in 2006,  at Agora University, by  Ioan DZITAC (Editor-in-Chief),  Florin Gheorghe FILIP (Editor-in-Chief), and  Misu-Jan MANOLESCU (Managing Editor).
Ethics: This journal is a member of, and subscribes to the principles of, the Committee on Publication Ethics (COPE).
Ioan  DZITAC (Editor-in-Chief) at COPE European Seminar, Bruxelles, 2015:
IJCCC is covered/indexed/abstracted in Science Citation Index Expanded (since vol.1(S),  2006); JCR2018: IF=1.585..
IJCCC is indexed in Scopus from 2008 (CiteScore2018 = 1.56):
Nomination by Elsevier for Journal Excellence Award Romania 2015 (SNIP2014 = 1.029): Elsevier/ Scopus
IJCCC was nominated by Elsevier for Journal Excellence Award - "Scopus Awards Romania 2015" (SNIP2014 = 1.029).
IJCCC is in Top 3 of 157 Romanian journals indexed by Scopus (in all fields) and No.1 in Computer Science field by Elsevier/ Scopus.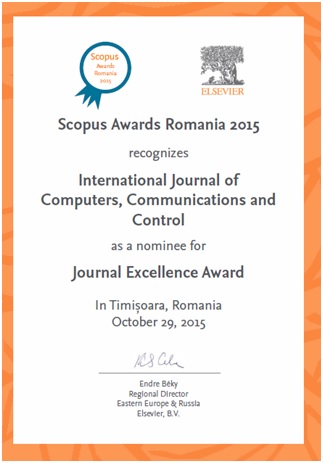 Impact Factor in JCR2018 (Clarivate Analytics/SCI Expanded/ISI Web of Science): IF=1.585 (Q3). Scopus: CiteScore2018=1.56 (Q2);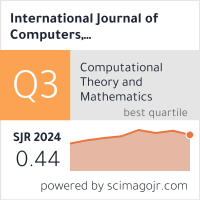 Editors-in-Chief: Ioan DZITAC & Florin Gheorghe FILIP.