Optimal Routing Strategy Based on Specifying Shortest Path
Abstract
How to enhance the transfer capacity of weighted networks is of great
importance. The network transfer capacity, which is often evaluated by the critical
packet generation rate, is proved to be inversely proportional to the highest
node betweenness. By specifying the shortest path according to the different node
characteristics, two different routing strategies are proposed to reduce the high node
betweenness for the different node delivery capability schemes. Simulations on both
computer-generated networks and real world networks show that our routing strategies
can improve the network transfer capacity greatly. Especially, the greater the
new added edge number is, the more efficient our routing strategies are.
Keywords
complex networks, weighted networks, routing strategy, betweenness
References
Arenas A. et al (2001); Communication in networks with hierarchical branching, Physical Review Letters, ISSN 0031-9007. 86(14): 3196-3199.
Guimera R. et al (2002); Optimal network topologies for local search with congestion, Physical Review Letters, ISSN 0031-9007.
http://dx.doi.org/10.1103/PhysRevLett.89.248701
Zhang, G.Q. (2010); On cost-effective communication network designing. Europhysics Letters, ISSN 0295-5075. 89(3): 38003.
Dijkstra E.W. (1959); A note on two problems in connexion with graphs. Numerische Mathematik, ISSN 0029-599X, 1(1): 269-271.
Yan G. et al (2006); Efficient routing on complex networks. Physical Review E, ISSN 1539-3755. 73(4): 046108.
Wang W.X. et al. (2006); Traffic dynamics based on local routing protocol on a scale-free network. Physical Review E, ISSN 1539-3755, 73(2): 026111.
Yin C.Y. et al (2006); Traffic dynamics based on an efficient routing strategy on scale free networks, The European Physical Journal B, ISSN 1434-6028. 49(2): 205-211.
Toroczkai Z.; Bassler K.E. (2004); Network dynamics: Jamming is limited in scale-free systems. Nature, 428, 716 (15 April 2004)
http://dx.doi.org/10.1038/428716a
Wu Y.H. et al (2013); Performance Analysis of Epidemic Routing in Delay Tolerant Networks with Overlapping Communities and Selfish Nodes, International Journal of Computers Communications & Control, ISSN 1841-9844, 8(5): 744-753.
Newman M.E.J. (2001); Scientific collaboration networks. II. Shortest paths, weighted networks, and centrality. Physical Review E, ISSN 1063-651X. 64(1): 016132.
Almaas E. et al (2004); Global organization of metabolic fluxes in the bacterium Escherichia coli, Nature, ISSN 0028-0836. 427(6977): 839-843.
Barrat A. et al (2004); The architecture of complex weighted networks. PNAS, ISSN 0027-8424. 101(11): 3747-3752.
Pastor-Satorras R.; Vespignani A. (2007); Evolution and structure of the Internet: A statistical physics approach, Cambridge University Press, ISBN 9780521714778.
Brandes U. (2001); A faster algorithm for betweenness centrality. Journal of Mathematical Sociology, ISSN 0022-250X, 25(2): 163-177.
Shao, F. (2013); Optimal Transport on Weighted Networks for Different Node Delivery Capability Schemes, The Scientific World Journal
http://dx.doi.org/10.1155/2013/378083
Barrat A. et al (2004); Modeling the evolution of weighted networks. Physical Review E, ISSN 1539-3755. 70(6): 066149.
Barrat, A. et al (2004); Weighted evolving networks: coupling topology and weight dynamics. Physical Review Letters, ISSN 1079-7114. 92(22): 228701.
Barthelemy M. et al (2005); Characterization and modeling of weighted networks. Physica A: Statistical Mechanics and its Applications, ISSN 0378-4371. 346(1-2): 34-43.
Freeman L.C. (1977); A set of measures of centrality based on betweenness. Sociometry, ISSN 0038-0431, 40(1): 35-41.
DOI:
https://doi.org/10.15837/ijccc.2014.5.1279
Copyright (c) 2017 Fei Shao, Binghua Cheng

This work is licensed under a
Creative Commons Attribution-NonCommercial 4.0 International License
.
CC-BY-NC  License for Website User
Articles published in IJCCC user license are protected by copyright.
Users can access, download, copy, translate the IJCCC articles for non-commercial purposes provided that users, but cannot redistribute, display or adapt:
Cite the article using an appropriate bibliographic citation: author(s), article title, journal, volume, issue, page numbers, year of publication, DOI, and the link to the definitive published version on IJCCC website;
Maintain the integrity of the IJCCC article;
Retain the copyright notices and links to these terms and conditions so it is clear to other users what can and what cannot be done with the  article;
Ensure that, for any content in the IJCCC article that is identified as belonging to a third party, any re-use complies with the copyright policies of that third party;
Any translations must prominently display the statement: "This is an unofficial translation of an article that appeared in IJCCC. Agora University  has not endorsed this translation."
This is a non commercial license where the use of published articles for commercial purposes is forbiden. 
Commercial purposes include: 
Copying or downloading IJCCC articles, or linking to such postings, for further redistribution, sale or licensing, for a fee;
Copying, downloading or posting by a site or service that incorporates advertising with such content;
The inclusion or incorporation of article content in other works or services (other than normal quotations with an appropriate citation) that is then available for sale or licensing, for a fee;
Use of IJCCC articles or article content (other than normal quotations with appropriate citation) by for-profit organizations for promotional purposes, whether for a fee or otherwise;
Use for the purposes of monetary reward by means of sale, resale, license, loan, transfer or other form of commercial exploitation;


The licensor cannot revoke these freedoms as long as you follow the license terms.
[End of CC-BY-NC  License for Website User]
INTERNATIONAL JOURNAL OF COMPUTERS COMMUNICATIONS & CONTROL (IJCCC), With Emphasis on the Integration of Three Technologies (C & C & C),  ISSN 1841-9836.
IJCCC was founded in 2006,  at Agora University, by  Ioan DZITAC (Editor-in-Chief),  Florin Gheorghe FILIP (Editor-in-Chief), and  Misu-Jan MANOLESCU (Managing Editor).
Ethics: This journal is a member of, and subscribes to the principles of, the Committee on Publication Ethics (COPE).
Ioan  DZITAC (Editor-in-Chief) at COPE European Seminar, Bruxelles, 2015:
IJCCC is covered/indexed/abstracted in Science Citation Index Expanded (since vol.1(S),  2006); JCR2018: IF=1.585..
IJCCC is indexed in Scopus from 2008 (CiteScore2018 = 1.56):
Nomination by Elsevier for Journal Excellence Award Romania 2015 (SNIP2014 = 1.029): Elsevier/ Scopus
IJCCC was nominated by Elsevier for Journal Excellence Award - "Scopus Awards Romania 2015" (SNIP2014 = 1.029).
IJCCC is in Top 3 of 157 Romanian journals indexed by Scopus (in all fields) and No.1 in Computer Science field by Elsevier/ Scopus.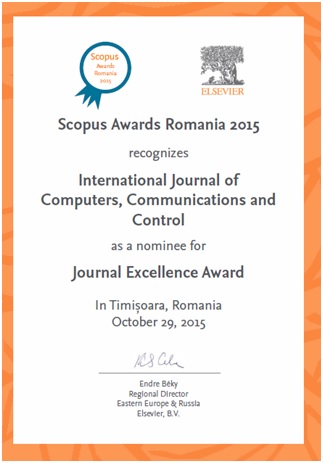 Impact Factor in JCR2018 (Clarivate Analytics/SCI Expanded/ISI Web of Science): IF=1.585 (Q3). Scopus: CiteScore2018=1.56 (Q2);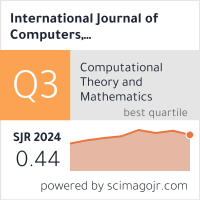 Editors-in-Chief: Ioan DZITAC & Florin Gheorghe FILIP.