Decision Model for Assessing Healthcare ICT Support Implications: User Perception
Abstract
This paper presents a multi-criteria decision model based upon user judgments
to assist the evaluation process of an Information and Communication Technology
(ICT) network system in health care to improve the quality of service (QoS).
Measuring quality in health care services is not an easy task, as there are many competing
goals involved, human, economic, communications technology, governmental
and others. Integrating multiple criteria decision analysis (MCDA) methodology with
modeling and simulation through Optimization Network Engineering Tool (OPNET)
platform permit to characterize main ICT user and identify priority applications to
examine network QoS requirements and implications. The proposed approach permitted
to identify the main users, to elaborate a profile and characterization of the
ICT support requirements according to their main daily task in answer to a service
requirement. The results generate evidence related to the important factors effecting
quality in hospital requirement as availability of services and the need for ubiquitous
access to integrated information. The stakeholder interface perception and resources
for ICT network support are investigated through a case study for Chilean hospitals.
Keywords
MCDA, Decision support, User perception, ICT Healthcare
References
Ammenwerth E., Nykanen P., Rigby M., Keizer N. (2013); Clinical Decision Support Systems: Need for Evidence, Need for Evaluation, Institute of Health Informatics, UMIT - 06.
Ammenwerth E., Graber S., Herrmann G., Burkle T., Konig J. (2003); Evaluation of health information systems problems and challenges, International Journal of Medical Informatics, 71: 125-135.
http://dx.doi.org/10.1016/S1386-5056(03)00131-X
Bourret C. (2004); Data Concerns and Challenges in Health: Networks, Information Systems and Electronic Records, Data Science Journal, 3:96-113.
http://dx.doi.org/10.2481/dsj.3.96
Gao F., Ye X. (2002); A Hierarchical Trade-off Assessment Model and the Systematic Evaluation of Networked Systems, Fast Abstract ISSRE, Copyright Chillarege Press.
Heath A., Carrasco R.(2001), Access techniques for 3G multimedia wireless packet switched networks: simulation using OPNETTM, IEE/IEEE/BCS 6th International Symposium on Communication Theory and Applications (ISCTA01), Lancaster University, 15-20 Jul 2001, 1-29.
ISO/IEC: ISO/IEC 9126-1(1997); Information Technology - Software Quality Characteristics and Metrics Part 1: Quality characteristics and sub-characteristics.
Jaspers M.W., Smeulers M. Vermeulen H., Peute L.W. (2011), Effects of clinical decisionsupport systems on practitioner performance and patient outcomes: a synthesis of highquality systematic review findings, Journal of the American Medical Informatics Association, 18: 327-334.
http://dx.doi.org/10.1136/amiajnl-2011-000094
National Research Council. (2000); Networking Health: Prescriptions for the Internet, National Academic Press ISBN-10: 0-309-06843-6.
Oddershede A. (2009); Methodology to Evaluate QoS of ICT Networks for the Chilean National Health Service, A thesis submitted to Newcastle University for the degree of Doctor of Philosophy, 2009.
Oddershede A.M., Carrasco R.A (2007); Perception of Mobile Technology Provision in Health Service, Chapter book Global Mobile Commerce: Strategies, Implementation and Case Studies, edited by Dr. Wayne Huang, Dr. Y.L. Wang and Dr. John Day, Ohio University, USA.
Perception of Mobile Technology Provision in Health Service, Chapter book Global Mobile Commerce: Strategies, Implementation and Case Studies, edited by Dr. Wayne Huang, Dr. Y.L. Wang and Dr. John Day, Ohio University, USA.
Opnet: User Manual (2004); http://www.opnet.com/university_program/teaching_with_opnet/textbooks_and_materials/materials/OPNET_Modeler_Manual.pdf
Xinjie Chang (1999); Network Simulations With Opnet, Proc. of the 1999 Winter Simulation Conference, P. A. Farrington, H. B. Nembhard, D. T. Sturrock, and G. W. Evans, eds., Network Technology Research Centre School of EEE Nanyang Technological University, Singapore.
Saaty, Thomas L. (2001); Decision Making for Leaders, Vol. II, AHP Series, RWS Publ., (new ed.), ISBN 0 - 9620317.
DOI:
https://doi.org/10.15837/ijccc.2014.5.1278
Copyright (c) 2017 Astrid M. Oddershede, Felisa M. Córdova, Rolando Carrasco, Francisco J. Watkins

This work is licensed under a
Creative Commons Attribution-NonCommercial 4.0 International License
.
CC-BY-NC  License for Website User
Articles published in IJCCC user license are protected by copyright.
Users can access, download, copy, translate the IJCCC articles for non-commercial purposes provided that users, but cannot redistribute, display or adapt:
Cite the article using an appropriate bibliographic citation: author(s), article title, journal, volume, issue, page numbers, year of publication, DOI, and the link to the definitive published version on IJCCC website;
Maintain the integrity of the IJCCC article;
Retain the copyright notices and links to these terms and conditions so it is clear to other users what can and what cannot be done with the  article;
Ensure that, for any content in the IJCCC article that is identified as belonging to a third party, any re-use complies with the copyright policies of that third party;
Any translations must prominently display the statement: "This is an unofficial translation of an article that appeared in IJCCC. Agora University  has not endorsed this translation."
This is a non commercial license where the use of published articles for commercial purposes is forbiden. 
Commercial purposes include: 
Copying or downloading IJCCC articles, or linking to such postings, for further redistribution, sale or licensing, for a fee;
Copying, downloading or posting by a site or service that incorporates advertising with such content;
The inclusion or incorporation of article content in other works or services (other than normal quotations with an appropriate citation) that is then available for sale or licensing, for a fee;
Use of IJCCC articles or article content (other than normal quotations with appropriate citation) by for-profit organizations for promotional purposes, whether for a fee or otherwise;
Use for the purposes of monetary reward by means of sale, resale, license, loan, transfer or other form of commercial exploitation;


The licensor cannot revoke these freedoms as long as you follow the license terms.
[End of CC-BY-NC  License for Website User]
INTERNATIONAL JOURNAL OF COMPUTERS COMMUNICATIONS & CONTROL (IJCCC), With Emphasis on the Integration of Three Technologies (C & C & C),  ISSN 1841-9836.
IJCCC was founded in 2006,  at Agora University, by  Ioan DZITAC (Editor-in-Chief),  Florin Gheorghe FILIP (Editor-in-Chief), and  Misu-Jan MANOLESCU (Managing Editor).
Ethics: This journal is a member of, and subscribes to the principles of, the Committee on Publication Ethics (COPE).
Ioan  DZITAC (Editor-in-Chief) at COPE European Seminar, Bruxelles, 2015:
IJCCC is covered/indexed/abstracted in Science Citation Index Expanded (since vol.1(S),  2006); JCR2018: IF=1.585..
IJCCC is indexed in Scopus from 2008 (CiteScore2018 = 1.56):
Nomination by Elsevier for Journal Excellence Award Romania 2015 (SNIP2014 = 1.029): Elsevier/ Scopus
IJCCC was nominated by Elsevier for Journal Excellence Award - "Scopus Awards Romania 2015" (SNIP2014 = 1.029).
IJCCC is in Top 3 of 157 Romanian journals indexed by Scopus (in all fields) and No.1 in Computer Science field by Elsevier/ Scopus.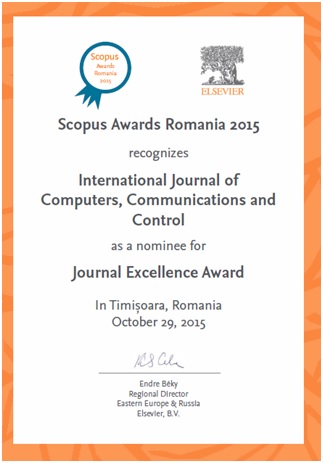 Impact Factor in JCR2018 (Clarivate Analytics/SCI Expanded/ISI Web of Science): IF=1.585 (Q3). Scopus: CiteScore2018=1.56 (Q2);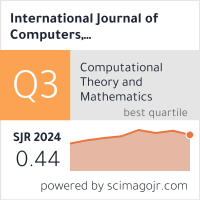 Editors-in-Chief: Ioan DZITAC & Florin Gheorghe FILIP.