Solving Continuous Trajectory and Forward Kinematics Simultaneously Based on ANN
Abstract
Robot movement can be predicted by incorporating Forward Kinematics
(FK) and trajectory planning techniques. However, the calculations will become
complicated and hard to be solved if the number of specific via points is increased.
Thus, back-propagation artificial neural network is proposed in this paper to overcome
this drawback due to its ability in learning pattern solutions. A virtual 4-degree
of freedom manipulator is exploited as an example and the theoretical results are
compared with the proposed method.
Keywords
Artificial Neural Network (ANN), back propagation neural network, forward kinematics, continuous trajectory
References
Saeed B. N. Introduction to Robotics Analysis,System,Application. Prentice Hall 2001, 29 – 172.
Ata, A., and Myo, Thi. Optimal trajectory planning and obstacle avoidance for flexible manipulators using generalized pattern research. World Journal Modeling and Simulation, 4, 163–171, 2008.
Guan, Y., Yokoi, K., and Kheddar, A. On robotic trajectory planning using polynomial interpolations. Proceeding of the IEEE International Conference on Robotics and Biomimetics, 111-116, 2005.
Reichenbach. T, Kovacic .Z. Collision-Free Path Planning in Robot Cells Using Virtual 3D Collision Sensors. Cutting Edge Robotics, 784, 2005.
Campos, J., Flores, J.A.R., and Montufar, C.P. Robot Trajectory Planning for Multiple 3D Moving Objects Interception: A Polynomial Interpolation Approach. Proceeding of the IEEE International Conferences on Electronics, Robotics and Automotive Mechanics, 478-483, 2008.
Zarkandi S., Vafadar A., Esmaili M. R. PRRRRRP Redundant Planar Parallel Manipulator: Kinematics, Workspace and Singularity Analysis. IEEE 5th International Conference on Robotics, Automation and Mechatronics (RAM), pg 61-66, 2011.
Al-Mashhadany,Y. I. Inverse Kinematics Problem (IKP) of 6-DOF Manipulator By Locally Recurrent Neural Networks (LRNNs). International Conference on Management and Service Science (MASS), 1 – 5, 2010.
Zhang, D., Lei, J. Kinematic analysis of a novel 3-DOF actuation redundant parallel manipulator using artificial intelligence approach. Robotics and Computer-Intergrated Manufacturing, 27, 157-163, 2011.
http://dx.doi.org/10.1016/j.rcim.2010.07.003
Firmani, F., Podhoprodeski, R. P. Singularity analysis of planar parallel manipulatos based on forward kinematic solutions. Mechanism and Machine Theory, 44, 1386-1399, 2009.
http://dx.doi.org/10.1016/j.mechmachtheory.2008.11.005
Alvandar, S., Nigam, M. J. Neuro-Fuzzy based approach for inverse kinematics solution of industrial robot manipulators. Int. J. of Computers, Communications & Control, 3, 224-234, 2008.
Mahidzal, D., and Jian-Ding, T. Forward and Inverse Kinematics Model for Robotic Welding Process Using KR-16KS KUKA Robot. Proceeding of the IEEE Int. Conf. on Modeling,Simulation and Applied Optimization, 1-6, 2011.
Shah, J., Rattan S. S., Nakra, B.C. Kinematic Analysis of 2-DOF planer robot using artificial neural network. World Academy of Science, Engineering and Technology, 81, 282-285, 2011.
Parikh, J.P., Lam, S.S. Solving the forward kinematics problem in parallel manipulators using an iterative artificial neural network strategy. Int. J. Adv. Manuf. Technol., 40, 595-606, 2009.
http://dx.doi.org/10.1007/s00170-007-1360-x
Her, M.-G., Chen, C.Y., and Karkoub, M. Approximating a Robot Inverse Kinematics Solution Using Fuzzy Logic Tuned by Genetic Algorithms. The International Journal of Advanced Manufacturing Techonology, 375-380, 2002.
DOI:
https://doi.org/10.15837/ijccc.2014.3.112
Copyright (c) 2017 Chun Kit Ang, Sai Hong Tang, Syamsiah Mashohor, Mohd Khairol Anuar Mohd Arrifin

This work is licensed under a
Creative Commons Attribution-NonCommercial 4.0 International License
.
CC-BY-NC  License for Website User
Articles published in IJCCC user license are protected by copyright.
Users can access, download, copy, translate the IJCCC articles for non-commercial purposes provided that users, but cannot redistribute, display or adapt:
Cite the article using an appropriate bibliographic citation: author(s), article title, journal, volume, issue, page numbers, year of publication, DOI, and the link to the definitive published version on IJCCC website;
Maintain the integrity of the IJCCC article;
Retain the copyright notices and links to these terms and conditions so it is clear to other users what can and what cannot be done with the  article;
Ensure that, for any content in the IJCCC article that is identified as belonging to a third party, any re-use complies with the copyright policies of that third party;
Any translations must prominently display the statement: "This is an unofficial translation of an article that appeared in IJCCC. Agora University  has not endorsed this translation."
This is a non commercial license where the use of published articles for commercial purposes is forbiden. 
Commercial purposes include: 
Copying or downloading IJCCC articles, or linking to such postings, for further redistribution, sale or licensing, for a fee;
Copying, downloading or posting by a site or service that incorporates advertising with such content;
The inclusion or incorporation of article content in other works or services (other than normal quotations with an appropriate citation) that is then available for sale or licensing, for a fee;
Use of IJCCC articles or article content (other than normal quotations with appropriate citation) by for-profit organizations for promotional purposes, whether for a fee or otherwise;
Use for the purposes of monetary reward by means of sale, resale, license, loan, transfer or other form of commercial exploitation;


The licensor cannot revoke these freedoms as long as you follow the license terms.
[End of CC-BY-NC  License for Website User]
INTERNATIONAL JOURNAL OF COMPUTERS COMMUNICATIONS & CONTROL (IJCCC), With Emphasis on the Integration of Three Technologies (C & C & C),  ISSN 1841-9836.
IJCCC was founded in 2006,  at Agora University, by  Ioan DZITAC (Editor-in-Chief),  Florin Gheorghe FILIP (Editor-in-Chief), and  Misu-Jan MANOLESCU (Managing Editor).
Ethics: This journal is a member of, and subscribes to the principles of, the Committee on Publication Ethics (COPE).
Ioan  DZITAC (Editor-in-Chief) at COPE European Seminar, Bruxelles, 2015:
IJCCC is covered/indexed/abstracted in Science Citation Index Expanded (since vol.1(S),  2006); JCR2018: IF=1.585..
IJCCC is indexed in Scopus from 2008 (CiteScore2018 = 1.56):
Nomination by Elsevier for Journal Excellence Award Romania 2015 (SNIP2014 = 1.029): Elsevier/ Scopus
IJCCC was nominated by Elsevier for Journal Excellence Award - "Scopus Awards Romania 2015" (SNIP2014 = 1.029).
IJCCC is in Top 3 of 157 Romanian journals indexed by Scopus (in all fields) and No.1 in Computer Science field by Elsevier/ Scopus.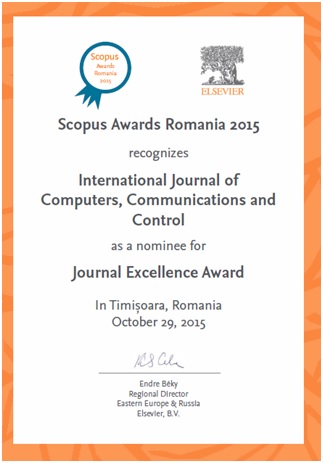 Impact Factor in JCR2018 (Clarivate Analytics/SCI Expanded/ISI Web of Science): IF=1.585 (Q3). Scopus: CiteScore2018=1.56 (Q2);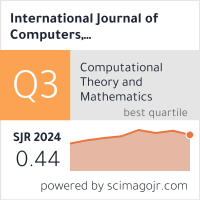 Editors-in-Chief: Ioan DZITAC & Florin Gheorghe FILIP.