A Feedback-corrected Collaborative Filtering for Personalized Real-world Service Recommendation
Abstract
The emergence of Internet of Things (IoT) integrates the cyberspace
with the physical space. With the rapid development of IoT, large amounts of IoT
services are provided by various IoT middleware solutions. So, discovery and selecting
the adequate services becomes a time-consuming and challenging task. This paper
proposes a novel similarity-measurement for computing the similarity between services
and introduces a new personalized recommendation approach for real-world service
based on collaborative filtering. In order to evaluate the performance of proposed
recommendation approach, large-scale of experiments are conducted, which involves
the QoS-records of 339 users and 5825 real web-services. The experiments results
indicate that the proposed approach outperforms other compared approaches in terms
of accuracy and stability.
Keywords
Internet of Things, service recommendation, similarity measurement, collaborative filtering
References
Gustafaason, J. (2011); Integration of wireless sensor and actuator nodes with IT infrastructure using service-oriented architecture, IEEE Trans Industrial Informatics, ISSN 1551-3203, 6(1): 1-10.
Guinard, D.; Trifa, V. (2010); Interacting with the SOA-Based Internet of Things: Discovery, Query, Selection, and On-Demand Provisioning of Web Services, IEEE Trans Services Computing, ISSN 1939-1374, 3(3): 223-235.
ICT FP7 OPEN IoT Project. Open source solution for the internet of things into the cloud, (2011). http://vmusm03.deri.ie/.
EPFL GSN project (2009). http://sourceforge.net/apps/trac/gsn/.
Cosm. Cosm platform, (2007). https://cosm.com/.
Perera, C.; Zaslavsky, A.; Christen, P. (2013). Context-aware sensor search, selection and ranking model for internet of things middleware. 14th IEEE International Conference on Mobile Data Management, 314–322.
http://dx.doi.org/10.1109/MDM.2013.46
Sreenath, R.M.; Singh, M.P. (2003); Agent-based service selection, J Web Semantics, ISSN 1570-8268, 1(3): 261-279.
Zhang, L.J.; Zhang, J.; Cai, H. (2007) Services computing, Springer and Tsinghua University Press, ISSN 0895-4852.
Moser, O.; Rosenberg, F.; Dustdar, S. (2008). Non-intrusive monitoring and service adaptation for ws-bpel, 17th Intl Conf. on World Wide Web, 815–824.
Papazoglou, M; Georgakopoulos, D. (2003). Service-oriented computing, Communications of the ACM, ISSN 0001-0782, 46(10): 25–28.
Zheng, Z.; Ma, H.; Lyu, M.R.; King, I. (2009). Wsrec: A collaborative filtering based web service recommender system, 7th Intl Conf. Web Services, 437–444.
Resnick, P.; Iacovou, N.; Suchak, M.; Bergstrom, P.; Riedl, J. (1994). Grouplens: An open architecture for collaborative filtering of net news, ACM Conf. Computer Supported Cooperative Work, 175–186.
Shardanand, U.; Maes, P. (1995). Social information filtering: Algorithms for automating word of mouth, SIGCHI Conf. Human Factors in Computing Systems, 210–217.
Sarwar, B.; Karypis, G.; Konstan, J.; Riedl, J. (2001). Item-based collaborative filtering recommendation algorithms, 10th Intl Conf. World Wide Web, 285–295.
Breese, J.; Heckerman, D.; Kadie, C. (1998). Empirical analysis of predictive algorithms for collaborative filtering, 14th Intl Conf. on Uncertainty in artificial intelligence, 43–52.
Adomavicius, G.; Tuzhilin, A. (2005). Toward the next generation of recommender systems: A survey of the state-of-the-art and possible extensions, IEEE Trans on Knowledge and Data Engineering, ISSN: 1041-4347, 17: 734–749.
Chen, X.; Zheng, Z.; Liu, X.; Huang, Z.; Sun, H. (2013). Personalized qos-aware web service recommendation and visualization, IEEE Trans on Service Computing, ISSN: 1939-1374, 6(1):35-47.
Karta, K. (2005). An investigation on personalized collaborative filtering for web service selection. Honours Programme thesis, University of Western Australia.
Shao, L.S.; et al. (2007). Personalized qos prediction forweb services via collaborative filtering. Intl Conf. on Web Services, 439–446.
http://dx.doi.org/10.1109/ICWS.2007.140
Miller, B.; Albert, I.; Lam, S.; Konstan, J.; Riedl, J. (2003). MovieLens unplugged: Experiences with an occasionally connected recommender system. 8th International Conference on Intelligent User Interfaces, 263–266.
Zhao, S.; Zhang, Y.; et al. (2013). A multidimensional resource model for dynamic resource matching in internet of things. Concurrency and Computation: Practice Experience.
http://dx.doi.org/10.1002/cpe.3170
Thio, N.; Karunasekera, S. (2005). Automatic measurement of a qos metric for web service recommendation, Australian Software Engineering Conference, 202–211.
Lipkus, A.H. (1999). A proof of the triangle inequality for the Tanimoto distance, Journal of Mathematical Chemistry, ISSN: 0259-9791, 263-265.
Zheng, Z.; Ma, H.; Lyu, M.R.; King, I. (2011). QoS-aware Web service recommendation by collaborative filtering, IEEE Trans on Service Computing, ISSN: 1939-1374, 4(2): 140-152.
DOI:
https://doi.org/10.15837/ijccc.2014.3.1085
Copyright (c) 2017 Shuai Zhao, Yang Zhang, Bo Cheng, Jun-liang Chen

This work is licensed under a
Creative Commons Attribution-NonCommercial 4.0 International License
.
CC-BY-NC  License for Website User
Articles published in IJCCC user license are protected by copyright.
Users can access, download, copy, translate the IJCCC articles for non-commercial purposes provided that users, but cannot redistribute, display or adapt:
Cite the article using an appropriate bibliographic citation: author(s), article title, journal, volume, issue, page numbers, year of publication, DOI, and the link to the definitive published version on IJCCC website;
Maintain the integrity of the IJCCC article;
Retain the copyright notices and links to these terms and conditions so it is clear to other users what can and what cannot be done with the  article;
Ensure that, for any content in the IJCCC article that is identified as belonging to a third party, any re-use complies with the copyright policies of that third party;
Any translations must prominently display the statement: "This is an unofficial translation of an article that appeared in IJCCC. Agora University  has not endorsed this translation."
This is a non commercial license where the use of published articles for commercial purposes is forbiden. 
Commercial purposes include: 
Copying or downloading IJCCC articles, or linking to such postings, for further redistribution, sale or licensing, for a fee;
Copying, downloading or posting by a site or service that incorporates advertising with such content;
The inclusion or incorporation of article content in other works or services (other than normal quotations with an appropriate citation) that is then available for sale or licensing, for a fee;
Use of IJCCC articles or article content (other than normal quotations with appropriate citation) by for-profit organizations for promotional purposes, whether for a fee or otherwise;
Use for the purposes of monetary reward by means of sale, resale, license, loan, transfer or other form of commercial exploitation;


The licensor cannot revoke these freedoms as long as you follow the license terms.
[End of CC-BY-NC  License for Website User]
INTERNATIONAL JOURNAL OF COMPUTERS COMMUNICATIONS & CONTROL (IJCCC), With Emphasis on the Integration of Three Technologies (C & C & C),  ISSN 1841-9836.
IJCCC was founded in 2006,  at Agora University, by  Ioan DZITAC (Editor-in-Chief),  Florin Gheorghe FILIP (Editor-in-Chief), and  Misu-Jan MANOLESCU (Managing Editor).
Ethics: This journal is a member of, and subscribes to the principles of, the Committee on Publication Ethics (COPE).
Ioan  DZITAC (Editor-in-Chief) at COPE European Seminar, Bruxelles, 2015:
IJCCC is covered/indexed/abstracted in Science Citation Index Expanded (since vol.1(S),  2006); JCR2018: IF=1.585..
IJCCC is indexed in Scopus from 2008 (CiteScore2018 = 1.56):
Nomination by Elsevier for Journal Excellence Award Romania 2015 (SNIP2014 = 1.029): Elsevier/ Scopus
IJCCC was nominated by Elsevier for Journal Excellence Award - "Scopus Awards Romania 2015" (SNIP2014 = 1.029).
IJCCC is in Top 3 of 157 Romanian journals indexed by Scopus (in all fields) and No.1 in Computer Science field by Elsevier/ Scopus.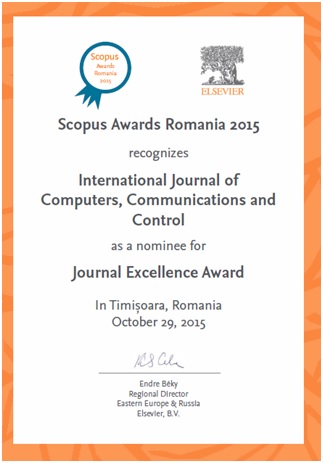 Impact Factor in JCR2018 (Clarivate Analytics/SCI Expanded/ISI Web of Science): IF=1.585 (Q3). Scopus: CiteScore2018=1.56 (Q2);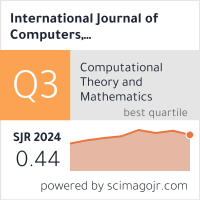 Editors-in-Chief: Ioan DZITAC & Florin Gheorghe FILIP.