A Tight Coupling Cooperation Scheme with QoS Provisioning in WiFi/WiMAX Networks
Abstract
A tight coupling cooperation scheme for WiFi/WiMAX networks with QoS provisioning
has been proposed in this paper. A new WFW (WiMAX for WiFi) module which enables
WiMAX ful ll the procedure of bandwidth request-con rm-grant for WiFi was described
with a modi ed MAC layer of which MSH-DSCH (Mesh Distributed control message) re-
newed, and thus overhead of interacting of WiFi control message was eliminated. The sched-
ule is then evaluated through simulations in two typical transmission scenarios. Numerical
results show that more e ective WiFi/WiMAX heterogonous networks which o er QoS guar-
antees are obtained with the utilization of the scheme. The eciency of WiFi Mesh networks
increase sharply without obvious decrease of WiMAX performance.
Keywords
tight cooperation, WiMAX for WiFi, heterogeneous mesh networks
References
Weifeng, S. et al. (2012); An Optimal ODAM-Based Broadcast Algorithm for Vehicular Ad- Hoc Networks, TIIS, ISSN 2160-6455, 6(12): 3257-3274.
Hanaoka, S.; Yano, M.; Hirata, T. (2008); Testbed System of Inter-Radio System Switching for Cognitive Radio, IEICE Transaction on Communications, ISSN 1745-1345, 5(4): 432-446.
Pignaton de Freitas, E.; Heimfarth, T.; Allgayer, R.S.; Wagner, F.R.; Larsson, T.; Pereira, C.E.; Ferreira, A.M. (2010); Coordinating Aerial Robots and Unattended Ground Sensors for Intelligent Surveillance Systems, International Journal of Computers Communications & Control, ISSN 1841-9836, 5(1): 52-70.
Arun, E.; Moni, R.S. (2012); Optimization of Vertical Handoff Decision Algorithm for Wireless Networks, International Journal of Computers Communications & Control, ISSN 1841- 9836, 7(2): 218-230.
Lior, O.; Yigal, B.; Itay, S. (2004); Wi-Fi (IEEE 802.11) and Bluetooth Coexistence: Issues and Solutions, IEEE PIMRC, ISSN 0-7803-8523-3, 2: 847 - 852.
Jong-Ok, K.; Shigeno, H.; Yamaguchi, A.; Obana, S. (2007); Airtime-based Link Aggregation at the Co-Existence of WiMAX and WiFi, IEEE PIMRC, ISSN 978-1-4244-1144-3, 1-5.
Ghazisaidi, N.; Kassaei, H.; Bohlooli, S. (2009); Integration of WiFi and WiMAX-Mesh Networks, Advances in Mesh Networks, Second International Conference on Advances in Mesh Networks, ISSN 1978-0-7695-3667-5, 1-6.
Hae Jung, K.; Chan Jung, P.; Ronny Yongho, K. (2011); Cooperative Heterogeneous Network Interworking between WiMAX and WiFi, Communication in Computer and Information Science, ISSN 1865-0929, 206(1): 62-69.
IEEE Std 802.16-2004. (2004); IEEE Standard for Local and Metropolitan Area Networks Part 16: Air Interface for Fixed Broadband Wireless Access Systems. The Institude of Electrical and Electronic Engineers, Inc.
DOI:
https://doi.org/10.15837/ijccc.2013.3.10
Copyright (c) 2017 Weifeng Sun, Peng Zhang, Zhenquan Qin, Yuanfang Chen, Da Teng

This work is licensed under a
Creative Commons Attribution-NonCommercial 4.0 International License
.
IJCCC is an Open Access Journal : CC-BY-NC.
Articles published in IJCCC user license are protected by copyright.
Users can access, download, copy, translate the IJCCC articles for non-commercial purposes provided that users, but cannot redistribute, display or adapt:
Cite the article using an appropriate bibliographic citation: author(s), article title, journal, volume, issue, page numbers, year of publication, DOI, and the link to the definitive published version on IJCCC website;
Maintain the integrity of the IJCCC article;
Retain the copyright notices and links to these terms and conditions so it is clear to other users what can and what cannot be done with the  article;
Ensure that, for any content in the IJCCC article that is identified as belonging to a third party, any re-use complies with the copyright policies of that third party;
Any translations must prominently display the statement: "This is an unofficial translation of an article that appeared in IJCCC. Agora University  has not endorsed this translation."
This is a non commercial license where the use of published articles for commercial purposes is forbiden. 
Commercial purposes include: 
Copying or downloading IJCCC articles, or linking to such postings, for further redistribution, sale or licensing, for a fee;
Copying, downloading or posting by a site or service that incorporates advertising with such content;
The inclusion or incorporation of article content in other works or services (other than normal quotations with an appropriate citation) that is then available for sale or licensing, for a fee;
Use of IJCCC articles or article content (other than normal quotations with appropriate citation) by for-profit organizations for promotional purposes, whether for a fee or otherwise;
Use for the purposes of monetary reward by means of sale, resale, license, loan, transfer or other form of commercial exploitation;


The licensor cannot revoke these freedoms as long as you follow the license terms.
[End of CC-BY-NC  License for Website User]
INTERNATIONAL JOURNAL OF COMPUTERS COMMUNICATIONS & CONTROL (IJCCC), With Emphasis on the Integration of Three Technologies (C & C & C),  ISSN 1841-9836.
IJCCC was founded in 2006,  at Agora University, by  Ioan DZITAC (Editor-in-Chief),  Florin Gheorghe FILIP (Editor-in-Chief), and  Misu-Jan MANOLESCU (Managing Editor).
Ethics: This journal is a member of, and subscribes to the principles of, the Committee on Publication Ethics (COPE).
Ioan  DZITAC (Editor-in-Chief) at COPE European Seminar, Bruxelles, 2015:
IJCCC is covered/indexed/abstracted in Science Citation Index Expanded (since vol.1(S),  2006); JCR2018: IF=1.585..
IJCCC is indexed in Scopus from 2008 (CiteScore2018 = 1.56):
Nomination by Elsevier for Journal Excellence Award Romania 2015 (SNIP2014 = 1.029): Elsevier/ Scopus
IJCCC was nominated by Elsevier for Journal Excellence Award - "Scopus Awards Romania 2015" (SNIP2014 = 1.029).
IJCCC is in Top 3 of 157 Romanian journals indexed by Scopus (in all fields) and No.1 in Computer Science field by Elsevier/ Scopus.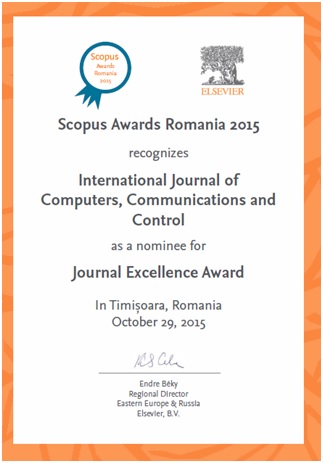 Impact Factor in JCR2018 (Clarivate Analytics/SCI Expanded/ISI Web of Science): IF=1.585 (Q3). Scopus: CiteScore2018=1.56 (Q2);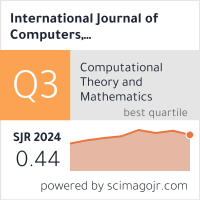 Editors-in-Chief: Ioan DZITAC & Florin Gheorghe FILIP.